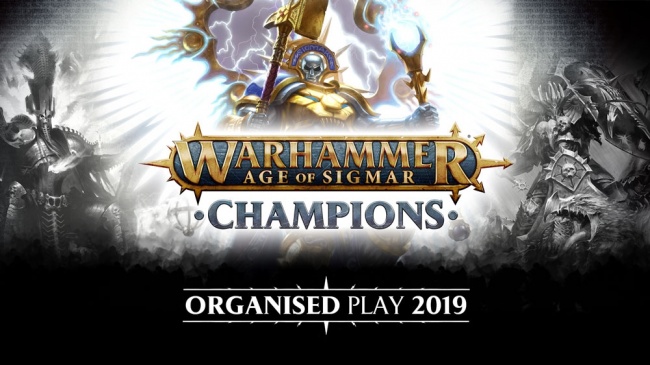 Monthly tournaments and point-based prizes will be features of new organized play programs PlayFusion is offering this year for
Warhammer Age of Sigmar: Champions.
The
Blood and Glory Series
and the introduction of Champion Points will both launch in March.
The Blood and Glory Series is a program of league tournaments that participating retailers can host in their store. The program uses an open format in which players can drop in and duel other players throughout the month. Participants must purchase Campaign Decks to use in the event, which are recorded on the players' deck registration sheets. Each week, each participant can purchase and add one booster to their deck through a program called "Deck Evolution." To keep the event competitive, players who lose three duels can get an additional booster to help them catch up. At the end of each month, the highest ranked players will be awarded prizes.
The first Blood and Glory tournament will begin in March and run for one month. The second tournament will launch in April and run for four months. A third tournament will start in August, running for three months.
Participating retailers can order the Blood and Glory Series kit for free, which includes promotional posters, booster packs for the tournament, an exclusive playmat, and a roster for tracking participants. Each kit can support up to 12 players.
Also in March, PlayFusion will begin offering players the opportunity to collect Champion Points by participating in organized play events. Each participant earns Champion Points for every event they compete in, with more restrictive events like championships and invitationals and events with more participants both awarding more points. Champion Points can be used to purchase exclusive digital content for the game, and high-ranking players will receive invitations to special tournaments and events.
The two new programs are additions to PlayFusion's growing organized play program, which will also include Organized Play Kits for in-store events (see "'Onslaught' Joins 'Warhammer Age of Sigmar: Champions'"), pre-release events, and Conquest Championship Qualifiers held on June 1st in Europe and July 1st in the U.S. The Finals for the Conquest Championship Series will be held in November.
Warhammer Age of Sigmar: Champions had a toehold on ICv2's list of top-selling collectible games from last summer (on our PRO site, see "PRO: Collectible Games Market Report and Top Brands Chart – Summer 2018"). The next expansion sets for the game will release in March and April (see "'Warhammer Age of Sigmar: Champions' Descends Into 'Savagery'").