The next expansion set for Wizards of the Coast's
Transformers Trading Card Game
,
Rise of the Combiners,
will release on March 1.
The focus of Rise of the Combiners is a new type of character that can "combine" with other characters to create a more powerful oversized combatant. Rise of the Combiners will feature a total of six sets of characters that can be combined in this way.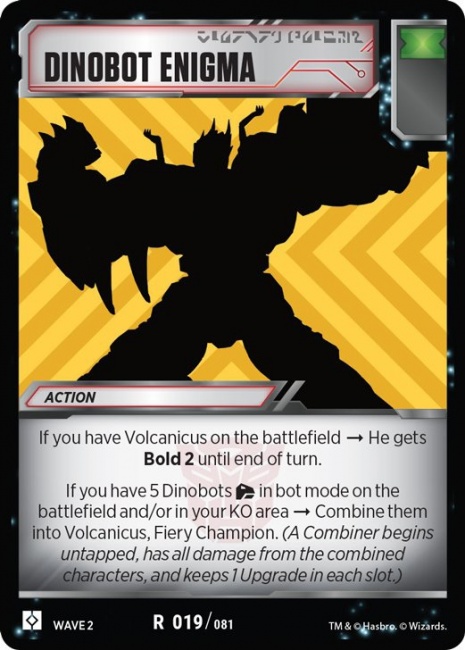 Combining characters will be printed on oversized cards equipped with a pre-scored hinge in the center that allows players to easily fold the card in half. When folded closed, the card shows the character in robot and alternate forms. When opened, it depicts a part of the giant robot that can be created by combining the entire group. Collecting all the characters plus the matching "Enigma" card allows a player to use the combining robots in the game.
In addition to the combining characters, the new expansion will add new features to the game, including triple-changing characters with multiple alternate forms, single-star battle cards, two new abilities—Brave and Stealth—and a new green battle icon that allows players to swap cards from their hand for cards in play.
Rise of the Combiners will include a total of 46 character cards and 81 battle cards. Cards will be packaged in 8-card booster packs, each with one foil character card. Boosters will be sold in 30-pack display boxes. MSRP has not been announced.
Last year, Wizards initiated a new organized play program to support the game (see "'Transformers TCG' Introduces New OP Formats").