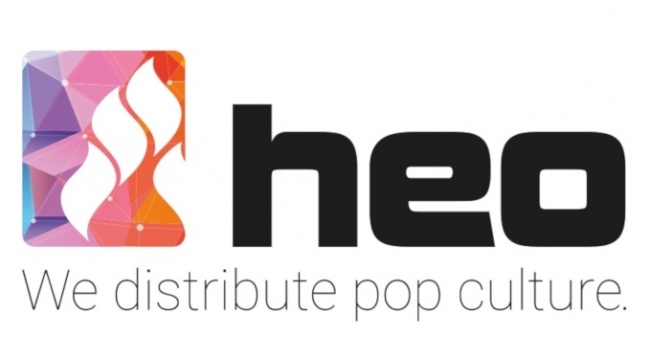 Germany-based distributor and branded collector supplies company heo is launching three new lines in the U.S. early this year (it expanded its U.S. distribution network last summer, see "heo Brings Ultimate Guard Collector Supplies"). We spoke to heo America CEO Patrick Hildebrant and Community and Events Manager Cedric Phillips about the gamer supply market, heo's increasing U.S. presence, and its early 2019 product launches.
ICv2: What's your evaluation of the current market for gamer supplies?
Patrick Hildebrant
: I think the state of the market is healthy, but also with a tremendous amount of opportunity. That's really what precipitated our move to open this office here in the Americas, and even to launch the Ultimate Guard brand as we did several years ago.
What I've learned from my time in the game industry is that in this space, people have a great affinity with the games they play. They express a lot of their personality. There's a lot of personal expression that goes with the game that you play.
I believe that is the case for supplies as well; this is not just a storage device. It really ends up being an expression of how you play and a bit of your personality as a person. Different colors and different games represent different play styles, different attributes, different techniques. That's what we try to build into products.
Do you have warehousing in the U.S., or are you shipping to distributors from wherever they're manufactured?
Hildebrant
: Great question. That was one of the key initiatives that we've done over the last year was to get our logistics operation up and running. We do have a partner facility here now in the Americas, actually based out of Washington, just south of Seattle. That was one of the big things that we wanted to focus on. Prior to that, our customers were importing directly from our facility overseas, in China specifically for most of our products. Some of them are made in Europe.
That was one of the big initiatives that we had, is to increase our speed to market. That is something that we did about midway through last year, 2018.
You said partner facility, what does that mean?
Hildebrant
: It means that we use a third‑party logistics company.
Are the tariffs affecting any of your product coming from China?
Hildebrant
: That's a really good question. It's something that we were very mindful of. There is some element to our portfolio that has been impacted by that and others that aren't. It's something that we're obviously closely monitoring and addressing.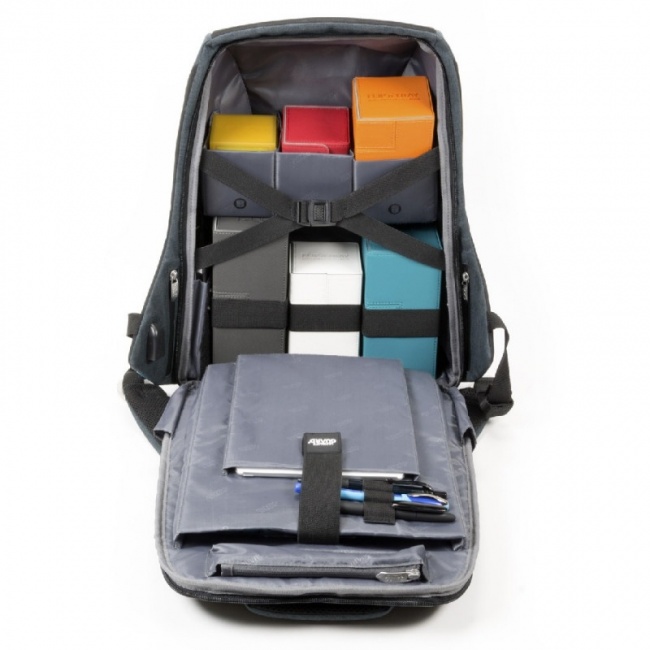 A couple of questions on the current round of product launches. We were intrigued by this backpack product. Just looking at it from a trade perspective, that's obviously something that's pretty large to stock. Is that a good fit for retailers, or is it more of a direct-to-consumer product?
Hildebrant
: Our distribution is very focused on retail stores; brick and mortar is critically important to us. Everything that you see in our portfolio has been designed for retailers with retailers in mind.
How is the backpack packaged for retail sale?
Hildebrant
: It ships in a corrugated box to our distribution partners. It is a bagged product, so comes in a nice field dust bag that protects the product for retail. The retailers can choose to leave it in that dust bag and its logo that looks really good and be able to put one in display, or they can take it out of the bag, display all of the backpacks and they're all individually tagged as well.
Have you started selling on that?
Hildebrant
: Pre‑orders have been taken by distributors and all that jobs. We're getting them over to retailers. The global launch is February 1st when resellers will be selling to consumers.
Phillips
: I was just going to say it's a pretty unique product and the response has been really favorable. I think it's the first time you've seen all these features come together in a product like this. The response really has been pretty overwhelming.
Hildebrant:
It is really designed ground-up to protect the investment that gamers make in the product. These investments are substantial. We have a lot of security features designed into this bag.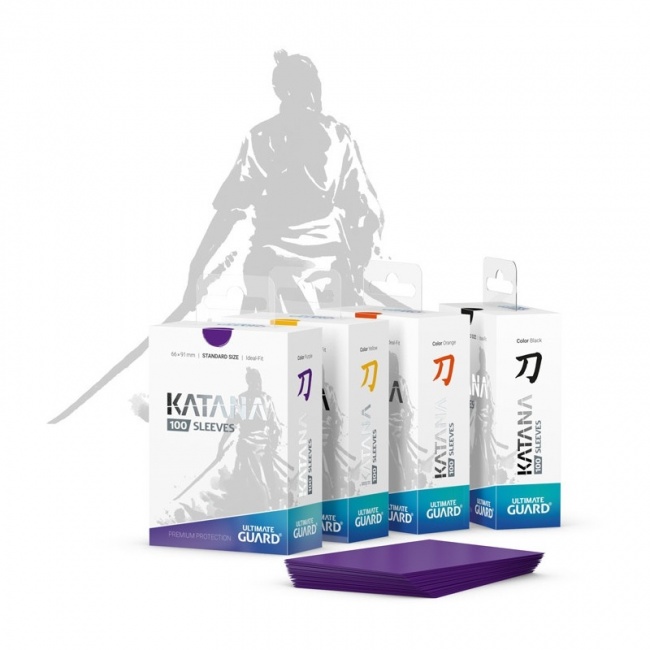 You're also launching a new sleeve line, Katana. What's the unique characteristic of the new sleeve line?
Hildebrant
: "Our products are designed by gamers for gamers" is a little bit of the language that we like to use internally on some of our products. That carries through to this product. The haptics are really important. The look and the feel of the products, so not just how it looks, but how it feels when you play with it, how it shuffles.
Again, we've put this in the hands of a lot of players. One of the first comments they usually say is, "Wow, the shuffle is great. This feels so good when I play with this product." When we started the research and development on this product line, we set out to make the highest quality and the best product on the marketplace. I really feel like we've hit that goal. I'm very excited about the launch of this product next month.
What's the MSRP going to be like relative to other similar products?
Phillips
: MSRP will be $12 here in the States. That will be probably the highest priced sleeve competitively, for a reason. We believe in this product quite a bit, and for all the quality that it brings from being fully opaque, made in Japan, impeccable clarity, for tournament game play, with 10 different colors that come along with it. There's a lot that we like about it. That is the MSRP. We are confident in that.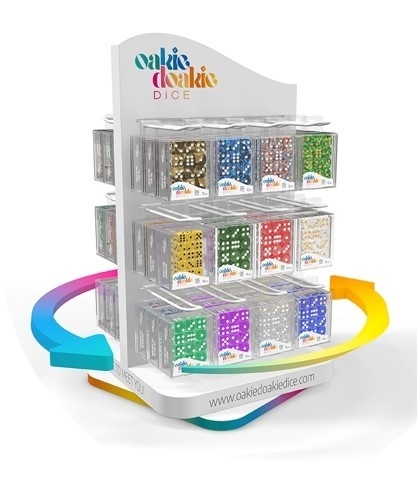 You also just launched a dice line in the U.S.?
Phillips
: The brand is Oakie Doakie [Dice]. The global launch was January 4th of this year. We're going from as simple as solid as unique as metal glow in the dark, and everything in between. Translucent, speckled, enclave, gem dice. We have a lot of different shapes, styles, and flavors of the dice. It is compatible with some of our Ultimate Guard products as well, because it is brought to you by the same company. It's just a different brand underneath this umbrella.
Hildebrant
: When Cedric says compatible, what he's referring to there is that the packaging itself is meant as a replacement tray for a lot of our next products. You can take the dice packaging and use it to fit in some of our box lines, our Twin Flip'n'Tray, for example, the RPGs. That will act as a replacement tray for our Twin Flip'n'Tray type of box.
How do the three new product lines you're introducing relate to your existing Ultimate Guard brand?
Phillips
: For the Oakie Doakie Dice, that brand is distinct from the Ultimate Guard brand. If we're talking about the Ammonite anti‑theft backpack and the Katana Sleeves, those two products are underneath the Ultimate Guard umbrella.
Anything you'd like to add?
Hildebrant
: One thing I wanted to add that I think is really important, especially for the retailers, is the other big focus for us is merchandising in the space. You asked the question, 'how does the category look,' and I said healthy.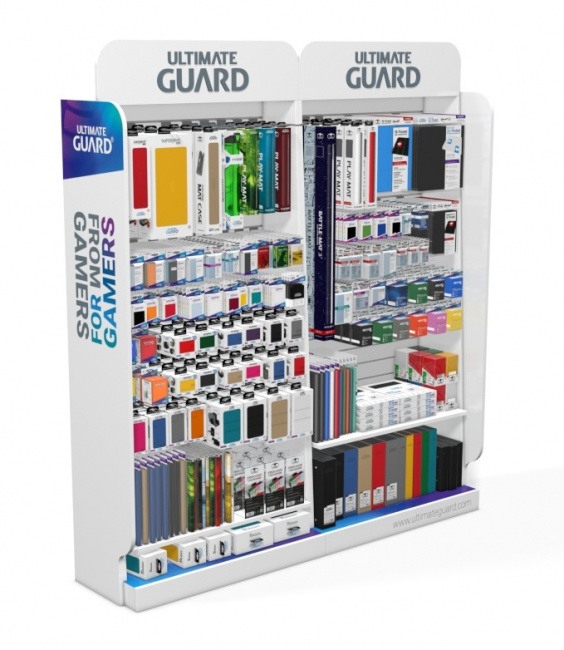 We do believe there's a lot of potential. Our brands are growing. That's the point. Merchandising, we believe, is really the key to that. We have invested a ton of money in merchandising solutions for retail. We have the Ultimate Guard Display, which is new for the Ultimate Guard line.
We have also two new displays that we're launching for the Oakie Doakie [Dice] line. The key message for us as we move into 2019 and beyond is really partnering with retail to present the products in the best way possible. We're putting our money where our mouth is by providing the displays. They're essentially free of charge. We ask for product commitment in exchange for the free display. Otherwise, we send those to retail stores free of charge in collaboration with our distribution partners.
Click Gallery below for full-size pics!