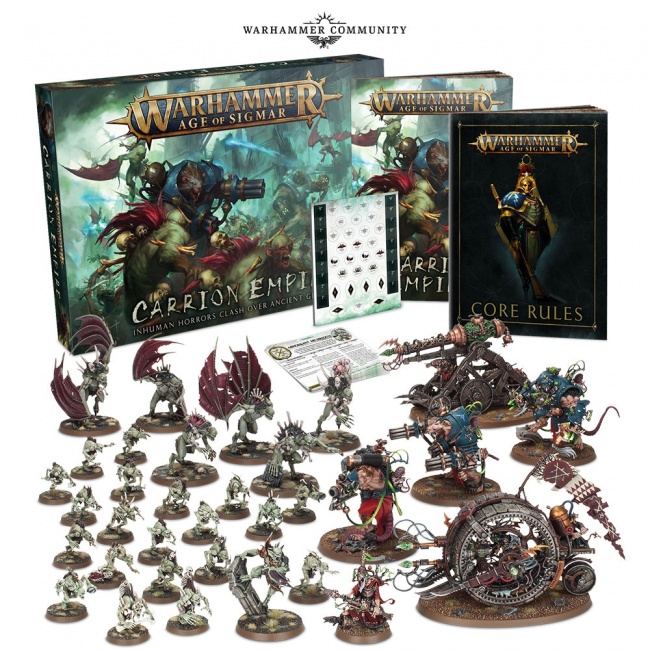 Games Workshop will soon take pre-orders for new armies for both
Warhammer: Age of Sigmar
and
Warhammer 40,000
. Two
Age of Sigmar
armies, the Skaven and the Flesh-eater Courts get new
Battletomes
as well as a new shared starter set called
Carrion Empire
, while the
Codex: Genestealer Cults
and new models bring that faction up to speed in
Warhammer 40,000.
Carrion Empire is a new boxed-set jumping-on point designed for new Age of Sigmar players or experienced players looking to start a Skaven or Flesh-eater Courts army. It comes with more than 30 models, including two models available only in this boxed set. A copy of the Core Rules, all the rules needed to use the models in the game, a counter sheet, and Warscroll cards round out the set.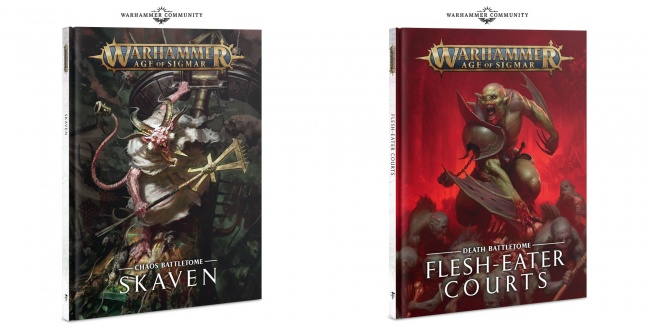 Each of the armies in the set will also be featured in their own
Battletome
.
Chaos Battletome: Skaven
has all of the rules for playing armies of the rat-men, with six Clans described as well as combined forces.
Death Battletome: Flesh-eater Courts
, meanwhile, covers these ghoulish forces, including rules for different Courts and Royal Zombie Dragons.
New models for both armies are also on the way, sold separately, including new army-themed terrain pieces and Endless Spells. Warscroll cards and themed dice sets will also be available.
MSRP for the new items have not yet been announced.
Last month, the grots were introduced to Age of Sigmar (see "Grots Invade 'Age of Sigmar'").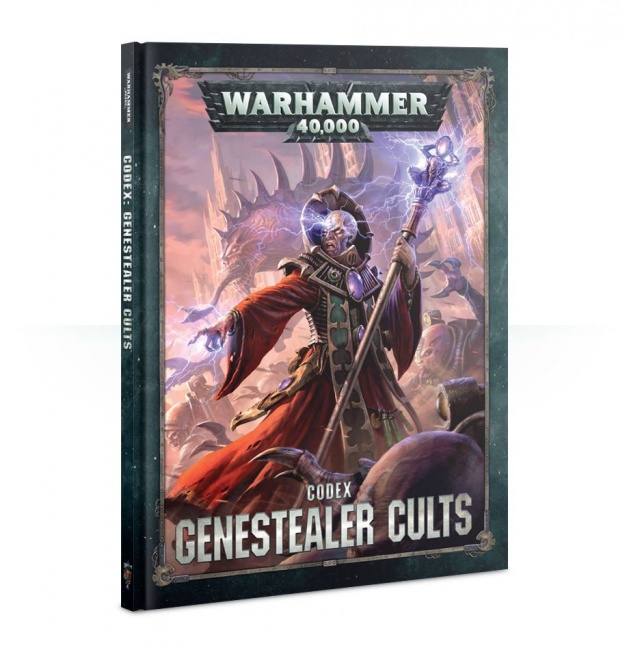 On the
Warhammer 40,000
side, the
Genestealer Cults
come into their own for the current edition with the
Codex: Genestealer Cults
, which reveals the history, tactics, and lore of these alien infiltrators, as well as the rules for using them in the game. The
Codex
includes a sheet of tokens for use with the army's special hidden deployment rules. MSRP is $40.00.
A deluxe, limited edition version of the Codex that includes upgraded acrylic tokens, datacards, and a poster will be available with a hefty $250.00 MSRP. A deck of Datacards: Genestealer Cults (MSRP $15.00) and a pack of themed dice (MSRP $30.00) are also being offered.
A number of new Genestealer Cult models are on their way, including new vehicles and characters for players to add to their armies. MSRP for the models range from $25.00 to $60.00 per kit.
Click on the gallery below for a preview of some of the new models.
The Genestealer faction was highlighted in a recent expansion for Warhammer 40,000: Kill Team that is also compatible with Warhammer 40,000 (see "'Kill Team' Skirmishes Continue to Expand").