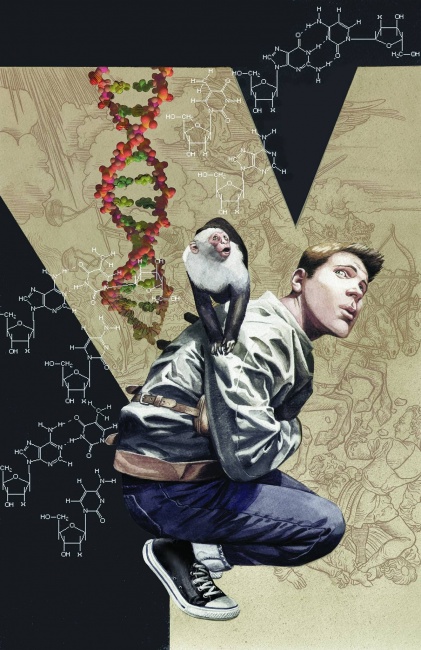 FX made announcements about two comic-based programs this week at the Television Critics Association winter press tour:
Y
The Last Man
is in,
Legion
is out.
Brian K. Vaughn and Pia Guerra's Vertigo comic series Y: The Last Man has been picked up for series adaptation, Variety reports. FX greenlit a pilot in April with the title Y (see "FX Greenlights 'Y: The Last Man.'") The series is set in a post-apocalyptic world where an event has killed all male mammals, except one lone human, Yorick Brown and his Capuchin monkey, Ampersand.
"Y: The Last Man is a towering achievement among graphic novel storytelling and it's been rewarding to work with this outstanding team," said Nick Grad, co-president of FX Networks and FX Productions. "Michael Green and Aïda Mashaka Croal have partnered with Nina Jacobson and Brad Simpson to deliver a stunning new expression of this fascinating and timely story. Melina Matsoukas, who directed the pilot, did an incredible job bringing it to life with Diane Lane and this stellar cast."
According to Variety, the critically acclaimed Legion, which was picked up for a third season in June (see "New Showrunner for 'Star Trek: Discovery,' 'Lucifer' Finds Salvation, Berlanti's $400 Million Deal, 'Legion' Renewed, ") will conclude after this season. John Langfraf, CEO of FX Networks and FX Productions said that series creator Noah Hawley always imagined the show as a three-season project. The series is based on the Marvel comic series by Chris Claremont and Bill Sienkiewicz.