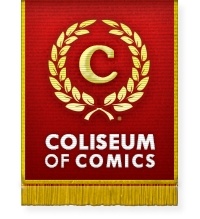 When true words are spoken, maybe a few more true words can help keep moving things along.
Phil Boyle, the owner-operator of Florida's eight-store Coliseum of Comics chain, recently published what he's now calling a "manifesto or whatever" on a few Facebook groups, and also let ICv2 run it
in its entirety
. Boyle's piece, which he freely volunteers coalesces thoughts shared with him in consultation with many other retailers, has generated quite a lot of interest. Broadly, Boyle suggests that "something has to change" in direct-market comic sales, and admits that where he's found sympathy with many publishers, "those fettered by large-corporation policy will likely not be able to change things without some major catalyst."
So here, perhaps, is a small catalyst.
And make no mistake: Many entities are afraid to address these issues in a public forum. Representatives from DC Comics, Marvel Comics, and Diamond Comic Distributors all declined to speak for the purposes of this article, except to say that they planned to address many of the issues Boyle mentioned at the upcoming ComicsPRO meeting in Charlotte, NC February 21-23. Boyle, along with retailers Joe Field of Flying Colors Comics and Brian Hibbs of Comix Experience, will all speak at the meeting, mirroring many of the points brought up in the original piece.
Boyle is not surprised his missive caught fire, and is looking forward to further conversations.
"It's not like this was done in a vacuum," he says. "I've been in communication with a lot of retailers. A lot of this was just me putting voice to concerns held by a lot of people. It's opened a lot of dialogue with publishers. We're seeing some positive things already. Now the question is, 'What can we do to make the industry stronger as a whole?' We can't tell the publishers, 'Hey, we need 90% off.' It would be nice, but I'm sure that's not doable. I think we all have to look at things as a bigger picture."
Filip Sablik, a Diamond vet who's now president of publishing and marketing at BOOM! Studios, is happy to have those conversations. He's known Boyle for 19 years.
"He's never been shy about sharing his opinion in person, but he's not typically one to write public op-eds to the industry," Sablik says. "All of this to say, when Phil Boyle writes a public op-ed, I pay attention."
Sablik also sees the importance of the content Boyle put voice to.
"The challenges facing the industry and retailers in particular he cited are real," Sablik says. "What I really appreciated about Phil's piece was that he came to the table with solutions, both next steps he was going to take and what he believes publishers can do to help. I may not line up with him 100%, and I imagine that would be true for many other publishers and retailers, but I don't think that was really the purpose of Phil issuing this as a public op-ed. I think he wanted to get a solutions-oriented conversation going. From that standpoint, it's working, isn't it?"
At IDW Publishing, Direct Market Sales Manager Joel Elad took notice of Boyle's piece… as did the rest of the company.
"I read it, everyone in our top management read it, and it was fascinating," Elad says. "Some of it is less realistic from a publisher point-of-view, some more. One of the ideas I really liked is what he called the 'seed copy,' where if retailers hit a certain level, we can reduce the price of extra copies to keep those copies on the shelf. We thought that was very interesting. Now it's going to our partners in the system and saying, 'Is this do-able? What would it take?'"
The partners (read: Diamond) are interested. Internal discussions at Diamond have already started regarding providing cheaper add-on copies to retailers, and how such a program might be implemented and affect discount structures. If there's one idea likely to catch fire in the "manifesto or whatever," this is likely it.
Many of the manifesto's other laments involve product glut: Too many comics to choose from can cause consumer confusion right from the jump, which is compounded by relaunches, new #1s, and variant covers. Joe Field has been discussing this with Boyle, and sees a "flattening" of the market.
"There are exponentially more comics we have to keep track of, be aware of and figure out who they're for, and how many we need or don't need," Field says. "With so many more publishers in the marketplace these days, what we've done is widen the market, but we've also flattened it. So many more titles selling fewer than 10 copies or even fewer than five copies, yet each one takes the same rack space, each one requires handling and some basic knowledge."
At Image Comics, Publisher Eric Stephenson shares many of Field's thoughts.
"Generally speaking, I think publishers could be a bit more judicious in our publishing planning," Stephenson says. "The whole industry would benefit from putting a bit more emphasis on quality instead of quantity, and that's a main focus for us in 2019. From speaking to retailers, it's clear many of them are overwhelmed by the amount of content in the marketplace. Few of them have time to read everything that comes out, which makes it tough for them to promote our books to the consumer—who is already having a difficult time keeping up with all the launches. Honestly, a little streamlining would benefit almost everyone in comics today, because as it stands, none of us are giving our titles enough room for discoverability or enough time for promotion."
Joel Elad has analyzed his numbers, and thinks IDW is working on them to a positive end.
"In 2017, we were doing 60 comics a month," Elad says. "In 2018, we went to ComicsPRO and said we were cutting that number to 40 a month, reducing a third of our output. And in three weeks, we're cutting another 15% to get to the mid-30s."
Elad hopes marrying editorial (a new launch) to sales technique (returnability) will help all parties. He cites IDW's
Transformers
relaunch.
"We've been publishing it for 13 years and have created a number of great stories, but we're kind of wrapping it up," he says. "So now we're looking at a part of the Transformers era that's never been covered by comics before, so it doesn't throw away 13 years of continuity that the fans have enjoyed, but also gives people a chance to get on, whether you've been here for 13 years, or you just remember the toys."
The new
Transformers
book is biweekly, and Elad wants to make sure stores aren't ordering blind.
"Retailers do need to figure out their order levels," he says. "So for the first four issues, two whole months, we're making it fully returnable. That's a way we can help. We're encouraging retailers to stock up on series that we think will generate interest."
And Elad knows well the glut.
"There's a 500-page catalog, and the eyes glaze over," he says. "We live in an era where there's so much information available, but often when you ask a customer how they found out about a book, the answer is, 'I saw it on the shelf.' The discoverability aspect is still key. Comics are very tactile, and the best way people often connect is picking it up and flipping through it. We need to help retailers keep copies on the shelf."
On the BOOM! Studios side of the street, Sablik will crow about his company's BOOM! Guarantee, which allows participating retailers to return six single-issue comics every month with no minimum orders, no stripped cover returns, and no risk.
"We typically have the first three issues of any new series in the BOOM! Guarantee program," Sablik says. "We also supply retailers with regular promotional material at no cost. It's been great to see other companies introducing programs for retailers similar to the one we pioneered. The more we, as publishers, reduce risk for comic shops, the greater an investment they're able to make in new and original series."
It's a copycat business, and Boyle is happy to see response. IDW pioneered a free 1-in-10 variant cover program for retailers, and now others are grabbing that baton.
"Aftershock announced to help with the discount level, instead of doing two main covers, they'll do a 1-in-10 variant that will be free to retailers and help us with more copies," Boyle says. "Image Comics announced they were doing an affidavit return on some of their #1s. That's kind of a huge deal, because Image can be very hit-or-miss on their books. That's not a negative thing, because it's Image that's throwing a lot more new, different things out there. Some hit, some don't. This will allow us to stock up beyond the speculator numbers. If it hits, we can get ongoing readers with #2, because all the #1s won't be in the hands of speculators who have locked them in their China cabinets. I can sell a #4 and a #22 to a reader. I can't sell that to a speculator. We need more readers in the industry."
And there's a rub: At a time when comics enjoy more mainstream recognition than ever, the trickle-down into comic specialty stores (readers) can feel very much like a trickle.
"I do think what everyone is sensing is that change is coming more rapidly these days," Sablik says. "Comics as a medium are truly mainstream. There are numerous other channels to consume that medium beyond the direct market that simply didn't exist as avenues at the founding of the direct market--the book channel, digital channels, libraries, schools, book fairs, and even mass market. We're in the middle of figuring out what role the comic book specialty market will play in this larger ecosystem and what changes need to be made so that the retailers on the front line remain competitive and vital."
Welcome to another rub: As Boyle pointed out, the direct market is roughly 46 years old, operating under a similar business model to the one it had when it started, granted, with some nips-and-tucks.
"If an old building is teetering, you can't go in and fix just one wall. You have to fix the whole building. I think that's where we are right now," Boyle says. And he emphasizes one important rider:
"To be very clear, I'm not blaming Diamond on this," Boyle says. "Diamond is the one piece of this puzzle that kind of has a specific set cost, and a specific income that they can make. So everything has to fit in those parameters. I understand that side of it. There are changes that need to be made, but Diamond putting books in boxes is not the problem here."
Changes are being made in the here-and-now. Boyle will be visiting Toy Fair in Manhattan in February, and plans a side trip to Marvel to talk through some issues. Conversations will continue at the ComicsPRO Annual Meeting, where Sablik promises additional announcements.
"None of us are the government; we can't just print deficit money," Boyle says. "So we all have to find a way to live within the parameters of this industry, or make new and better parameters."
And it starts with conversation, according to Image Comics Director of Sales Corey Hart (for much more,
click here
).
"Several years ago, when I first started working at Image after having been a retailer, I became acutely aware of just how little each side often understands the other," Hart says. "I believe these misunderstandings are not from lack of interest or of caring, they are simply born from the reality that we all, both publishers and retailers alike, operate in a world that is often completely isolated from one another which can result in perspectives that are somewhat myopic and insular."
And Joe Field is happy to know that conversation has started.
"I'm happy some key retailers are speaking up and trying to prompt change," he says. "It's time retailers stopped being the end users for publishers. It's time the end users for comics are readers."
For an ICv2 analysis of the changing number of comic titles, variants, and first issues, see "Marvel Soliciting More Titles, More #1s, More Variants."