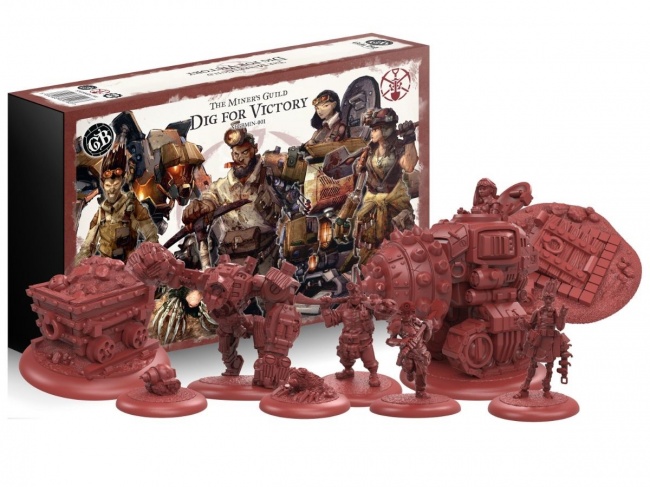 March 1 will see a new team and four new captains join Steamforged Games' fantasy football game
Guild Ball.
The fifth of the Minor Guilds to reveal themselves, and allied with the Engineer's Guild, the miners use their knowledge of the secret tunnels beneath the pitch to travel swiftly around the field. The Engineer's Guild will be delighted to borrow new players (Fuse & Spade) to augment their ranks.
The Minder's Guild: Dig for Victory team box includes 6 players: Shaft (Captain) Digger (Mascot) Spade, Fuse, Fissure, and Mule;, a ball (Mini Drill); goal token (Mine Cart); and a 3D Terrain Piece (Mine Shaft).All models are made of colored resin and some assembly is required. MSRP is $80.00.
A Minder's Guild: Retail Alternate Spade miniature will be available to retail partners that order from SFG Direct. MSRP is $10.00.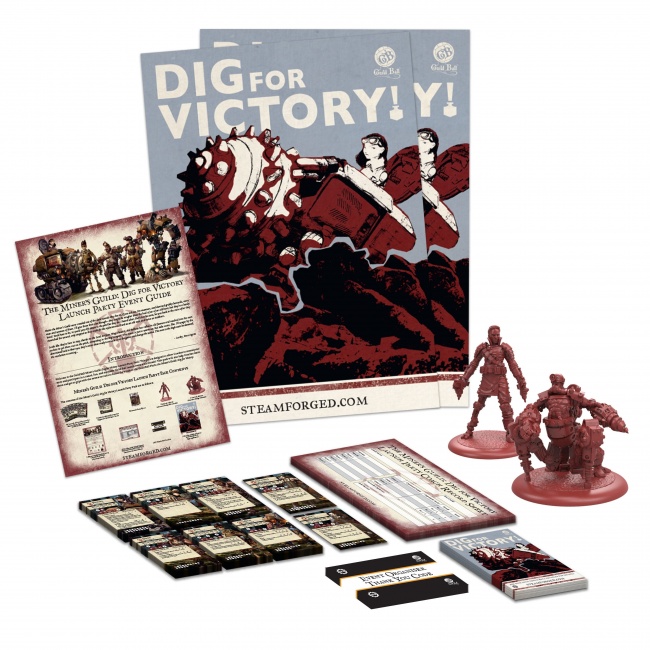 The
Miner's Guild
will be welcomed to the game with a special in-store
Launch Pack.
The
Miner's Guild: Launch Pack
will celebrate the arrival of the guild with a tournament deep underground. Don't mind the low light conditions, or the confined spaces of the underground Guild Ball Pitch, just keep alert for any nasty surprises the Miners may have left lying round. The
Launch Pack
includes 1 Miner's Guild: Dig for Victory Launch Party Guide, 2 double-sided a2 posters and launch party sign-up sheets, 10 Coach Record Sheets, 1 Limited-edition
Alternate Sculpt Salvo
model, 1 Limited-edition
Alternate Sculpt Colossus
model, 48 Limited-edition Alternate Art Miner's Guild Player Cards, 2 Limited-edition Alternate Art Engineer's Guild Player Cards, and 1 EO Thank You Voucher. SRP is $30.00.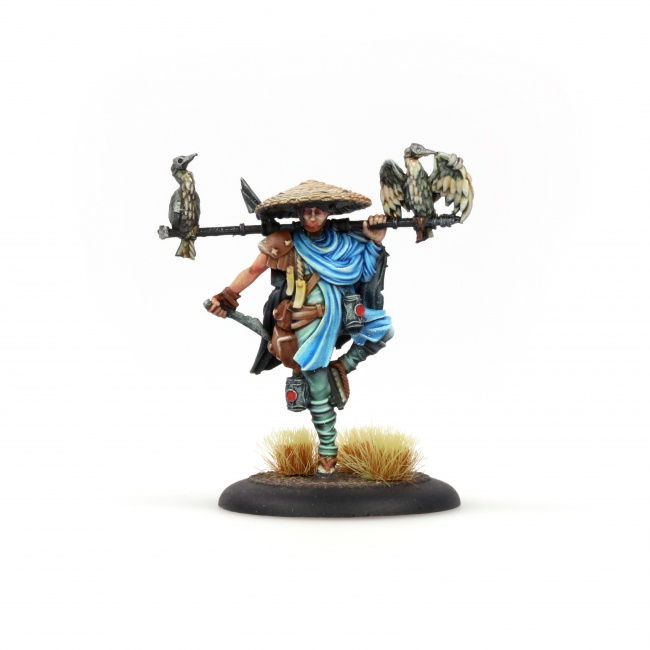 Four classic guilds will be getting new captains for Season 4:
Fisherman's Guild Captain: Yukai – Follower of the Old Path, Butcher's Guild Captain: Veteran Boar – The Beast Untamed, Mortician's Guild Captain Mourn – The Nightmare,
and
Hunter's Guild Captain: Steeljaw – Dark Omen.
These captains are perfect introductory captains for new players, as they embody aspects of their respective guilds. MSRP is $15.00 - $20.00.
See images of all miniatures in the gallery below!