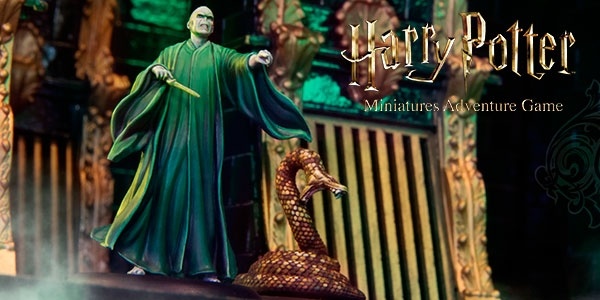 Knight Models is adding some powerful forces to its
Harry Potter Miniatures Adventure Game
and
Batman Miniature Game
in March.
Lord Voldemort & Nagini brings the Dark Lord and his faithful snake (and Horcrux) Maledictus Nagini to the Harry Potter Miniatures Adventure Game. The box includes the figures, character cards, 7 Horcrux cards, and a new scenario. MSRP is $33.95.
Scabior & Snatchers adds the former Azkaban prisoner to the field, along with the snatchers gang led by Fenrir Greyback. The gang is good reinforcements for any evil group in the game, and their box includes exclusive scenario rules. MSRP is $40.00.
Fenrir Greyback himself comes in a single blister. He was not well-known, but he's an evil werewolf who enjoys biting children to create enough werewolves to overrun the wizards. He also is the one who turned Remus Lupin into a werewolf as a child. MSRP is $22.50.
Molly & Alfred Weasley come together in a blister pack, with miniatures, character cards, and mini cards. The charismatic duo who were a second family to Harry Potter are also powerful wizards. MSRP is $30.00.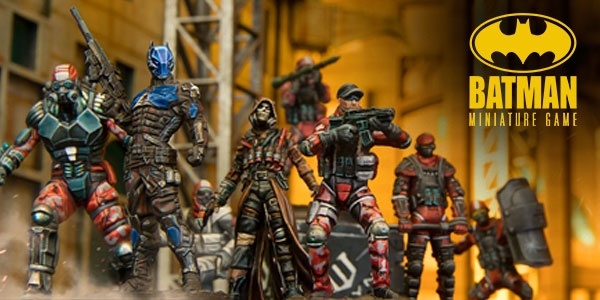 The
Batman Miniature Game
will add a powerful
Bat Box – Militia: Invasion Force
in March. It includes Arkham Knight and Scarecrow leading a mercenary crew: Militia Lieutenant, Militia Brute, Militia Medic and 3 Militia Soldiers. The box includes quickstart rules, a drone marker, and a new scenario. MSRP is $89.95
Albus Dumbledore and The league of Assassins join the games this month (see "'Harry Potter' and 'Batman' Miniature Games Add New Figures").
See images in the gallery below!