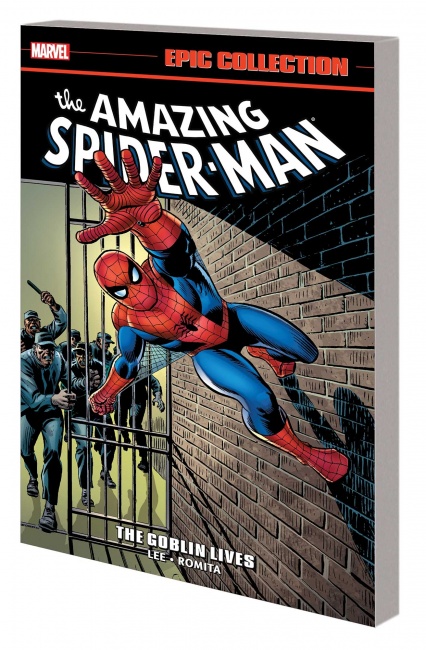 Marvel is releasing ten
Spider-Man
related collections this spring ahead of
Spider-Man: Far From Home
, even as the Oscar winning -
Spider-Man: Into the Spider-Verse
returns for an encore run in theaters.
Animated feature Spider-Man: Into the Spider-Verse co-director Rodney Rothman announced the film's return to theaters, including select IMAX screens this weekend on Twitter. The film won the Oscar for Best Animated Film last weekend, and grossed $185 million at the domestic box office. The movie releases on 4K Ultra HD, Blu-ray and DVD on March 19. Spider-Man: Far From Home, the next live-action outing for the Wall Crawler, will release in theaters on July 5 (see "'Spider-Man: Far From Home' Trailer").
Spider-Man: Far from Home – The Art of the Movie hardcover slipcase edition will go behind the scenes of Spidey's upcoming summer flick Written by Eleni Roussos, this 288-page landscape collection includes exclusive concept art, production stills and commentary from cast and crew. MSRP is $50.00. Release is July 3.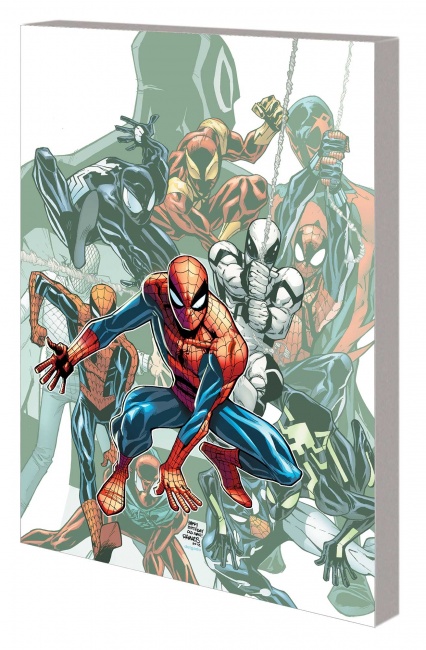 Marvel Monograph: The Art of Humberto Ramos – Spider-Man
is a 112-page trade paperback collecting Ramos's indelible contribution to the Spider-Man mythos, including the artist's best pages, covers and behind-the-scenes material. MSRP is $19.99. Release is June 12.
Marvel Visionaries: John Romita Sr. is a 336-page paperback collection collecting his distinctive work, and much of it is related to Spider-Man and his friends and foes. It includes Amazing Spider-Man (1963) #39-40, #42, #50 and #108-109; Captain America (1968) #138; Daredevil (1964) #16-17; Fantastic Four (1961) #105-106; Untold Tales Of Spider-Man #-1; and material from Vampire Tales #2, Strange Tales (1951) #4, Menace #6 and #11, Young Men #24 and #26, Western Kid (1954) #12, Tales To Astonish (1959) #77 and Amazing Spider-Man (1963) #365. MSRP is $34.99. Release is May 29.
Spider-Man by John Byrne Omnibus is a massive 1,264-page oversized hardcover collecting every Spidey story illustrated by John Byrne. It includes Marvel Team-Up (1972) #53-55, #59-70 and #75; Amazing Spider-Man (1963) #189-190, #206 and Annual #13; Peter Parker, The Spectacular Spider-Man (1976) #58; Spider-Man: Chapter One #0-12; Amazing Spider-Man (1999) #1 (A & C Stories), #2-11, #12 (A Story) and #13-18; as well as Marvel Authentix: Amazing Spider-Man #1. MSRP is $125.00. Release is planned for September 4.
Additional titles include:
Spider-Man Vs. Mysterio ($39.99) 5/29/2019
Amazing-Spider-Man Epic Collection: The Goblin Lives ($39.99) 6/19/2019
Spider-Man: The Gauntlet – The Complete Collection Vol. 1 ($39.99) 6/19/2019
Spider-Man Noir: The Complete Collection ($24.99) 5/29/2019
Spider-Man Loves Mary Jane: The Complete Collection Vol. 1 ($12.99) 6/12/2019
Adventures of Spider-Man Vol. 1 ($12.99) 6/5/2019
See covers in the gallery below!