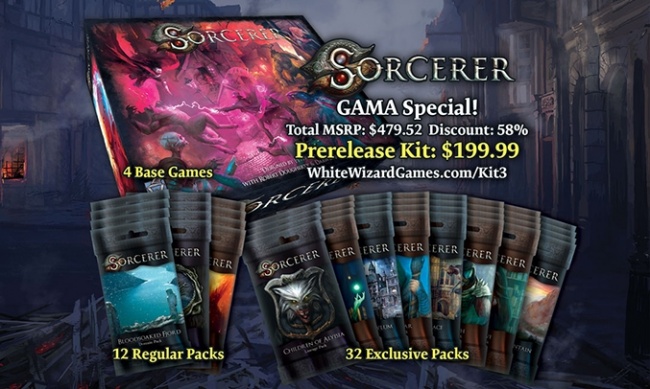 White Wizard Games has announced a prerelease kit aimed at brick-and-mortar retail stores for its new character-building game,
Sorcerer
(
see "White Wizard Games Unleashes 'Sorcerer'"
). Participating stores receive the kit ahead of the game's scheduled release date in June.
"This is an opportunity for retailers to purchase directly from us, get exclusive items and get Sorcerer products before the general release date," said White Wizard COO Debbie Moynihan.
The kit includes four copies of the base game, 12 regular supplement packs, and 32 packs exclusive to Kickstarter backers. The total value in MSRP of the contents is $479.52 but is available to participating retailers for $199.99.
The company designed the kit as a GAMA Trade Show exclusive, but it is not limited to show attendees. Retailers unable to make the conference may order one direct from White Wizard's website. However, the kits are limited to one per store, are restricted to retailers in the continental U.S., and must be ordered by March 15 – the last day of the GAMA Trade Show.
Fulfilment is expected to be in April – two months ahead of the game's anticipated June release date.
Sorcerer was funded by a Kickstarter that raised $392,050 from 4604 backers.