Luxemburg-based publisher Mythic Games, known for its lavishly immersive crowdfunded miniature games, is bringing
Time of Legends: Joan of Arc
to U.S. hobby distribution this year through an exclusive agreement with GTS Distribution.
Time of Legends: Joan of Arc
will release in November.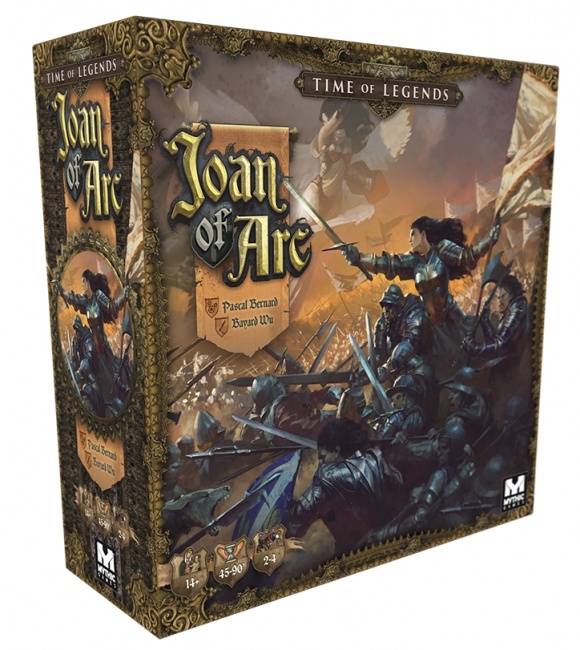 Time of Legends: Joan of Arc
raised more than $2 million from nearly 10,000 backers in a Kickstarter campaign in October 2017 (see "
Relive the Fantastical Battles of The Hundred Years' War
"). The narrative battle game is set during a mythic retelling of the Hundred Years' War. The retail version will include exclusive content not part of the Kickstarter. MSRP is $60.00.
"This is hopefully the start of a budding relationship not just with GTS but with retailers for us at Mythic Games, "Az Drummond, Mythic Games' Communications Manager told ICv2 at the GAMA Trade Show. "We want to take what was an absolutely huge Kickstarter franchise and build it into a long-term retail product. We're hoping this core set for players really sells well with the retail exclusive content that's in the box, and that opens new doors to bring new content to Joan of Arc in the future."
"We are excited to enter into this partnership with Mythic," said Barry Calhoun, General Manger- Gaming Division at GTS. "We are already seeing demand for Time of Legends: Joan of Arc, and our companies have worked out a great strategy to get the most out of this relationship together." GTS Distribution, a hobby distributor of gaming, sports and entertainment trading cards, toys ,and hobby supplies, has exclusive U.S. distribution agreements with over 20 publishers.
Mythic Games has built a dedicated following on crowdfunding platforms in the last few years with some opulent miniatures games that topped the multi-million-dollar funding mark including Solomon Kane, and Mythic Battles: Pantheon in partnership with Monolith (see "Mythic Games' 'Mythic Battles' Reborn as 'Mythic Battles: Pantheon'").