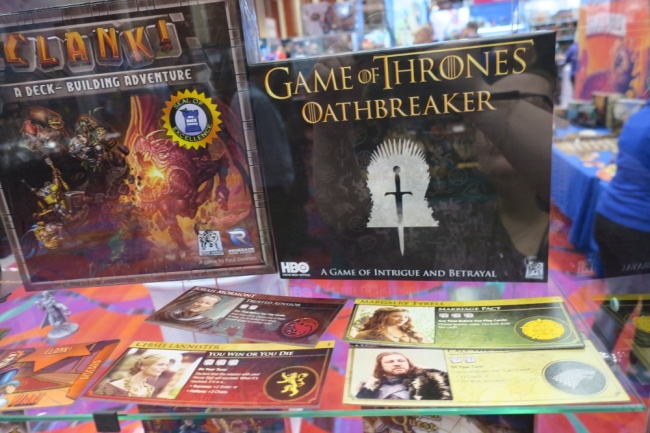 Dire Wolf Digital has partnered with HBO to produce
Game of Thrones: Oathbreaker,
a social deduction game that will release this spring to coincide with the airing of the final season of the series.
In the game, one player claims the Iron Throne and the others become Lords and Ladies of the great houses of Westeros, scheming for power, currying the King's favor, or to bring the current dynasty to ruin. Loyalists are pitted against conspirators where everyone has a secret agenda and there really is no sure way to tell an ally from an enemy.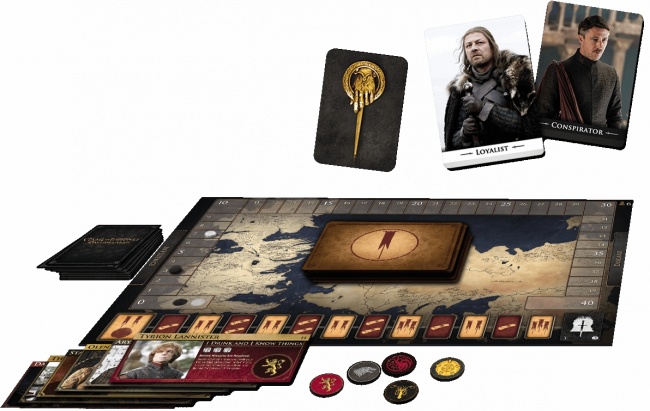 The box contains 2 double-sided game boards, 6 double-sided character boards (featuring 12 unique playable characters), 6 house sigils, Hand of the King emblem, 60 reward cubes, 125 cards, 33 oversized mission cards, Order, Chaos, and Round trackers, and a rulebook. The game is for 5 – 8 players, ages 14 and up, and plays in 30 – 45 minutes. MSRP is $35.00.
As with Clank!, Dire Wolf is partnering with Renegade Game Studios to produce the game and bring it to hobby trade distribution (see "'Clank! A Deck-Building Adventure'"). Renegade had a copy on display at its booth at the GAMA Trade Show this week.
See more images in the gallery below!
The final season of HBO's Game of Thrones will premiere on Sunday, April 14 (see "Full 'Game of Thrones' Season 8 Trailer").