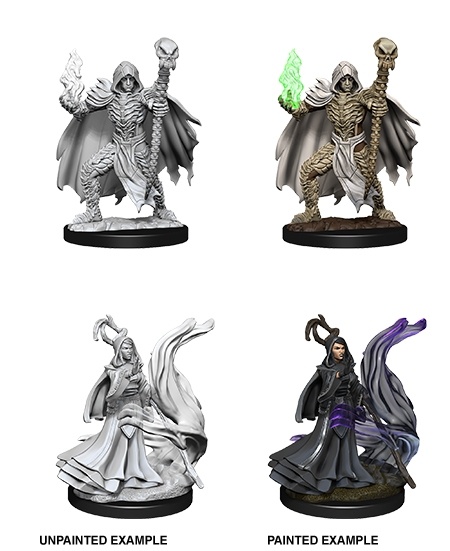 In September, WizKids will release a bushel full of unpainted miniatures, including five new
Pathfinder Battles Deep Cuts
sets and 16
WizKids Deep Cuts
sets.
Like all figures in the Deep Cuts lines, these miniatures are unpainted plastic models of fantasy characters and creatures, molded with deeper detailing and pre-primed. Some assembly may be required, and some models feature translucent components.
The Pathfinder Battles Deep Cuts sets includes two single-figure monster kits and three two-figure character kits, all MSRP $4.99 each:
Pit Devil (1 mini)
Bone Golem (1 mini)
Necromancers (2 minis)
Male Elf Rogue (2 minis)
Male Half-Orc Druid (2 minis)
The new WizKids Deep Cuts sets feature medieval punishments, scenery and people one might find in a fantasy village, and scenery from a typical campsite. All kits are MSRP $4.99 each:
Hanging Cage (1 cage plus 1 prisoner)
Guillotine (1 mini)
Mayor & Town Crier (2 minis)
Guards (2 minis)
Signs & Lights (6 pieces)
Piles of Wood (3 pieces)
Bounty Board (1 mini)
Fountain (1 mini)
Heroic Statue (1 mini)
Well (1 mini)
Horse & Hitch (2 pieces)
Archery Range (3 pieces)
Camp Fire & Sitting Log (4 pieces)
Bedrolls (4 pieces)
Tent & Lean-to (2 pieces)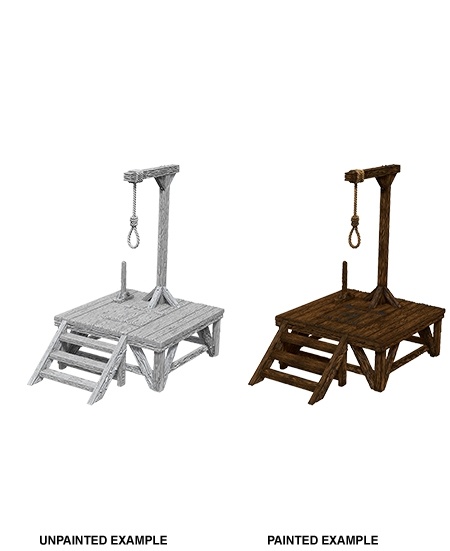 One larger kit, the
Gallows
, features a raised platform ready for the executioner. The MSRP for this kit is $14.99.
Click on the gallery below for images of the new minis!
WizKids is also expanding its licensed Dungeons & Dragons unpainted miniature offerings in September (see "Dragon Wyrmlings, Elementals, Golems, More for 'Nolzur's Marvelous Miniatures'").