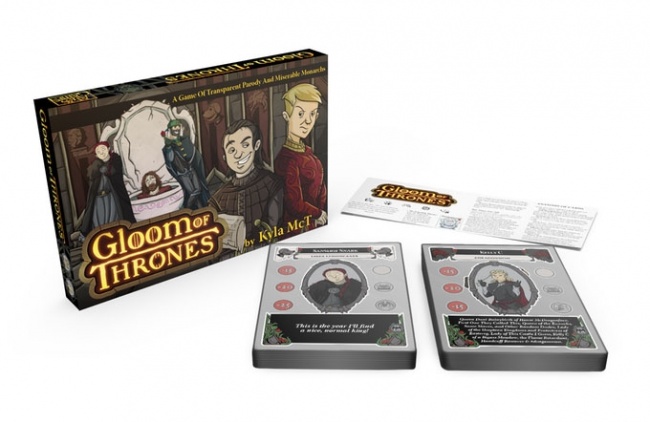 Atlas Games will release
Gloom of Thrones
, the latest expansion for its popular
Gloom
card game, to trade in Q4 following backer fulfillment for its ongoing Kickstarter, which is fully funded.
Designed by Kyla McT (
Fairytale Gloom
,
Cogs and Commissars
) with art by Brian Patterson (
Chimera Station
,
Kaiju Incorporated
),
Gloom of Thrones
is a standalone card game that brings the usual rules of making characters as miserable as possible before killing them to a parody version of a fantasy world in which everyone is trying to take the Porcelain Throne. The cards are transparent plastic, so they can be laid on top of each other with the base traits showing through.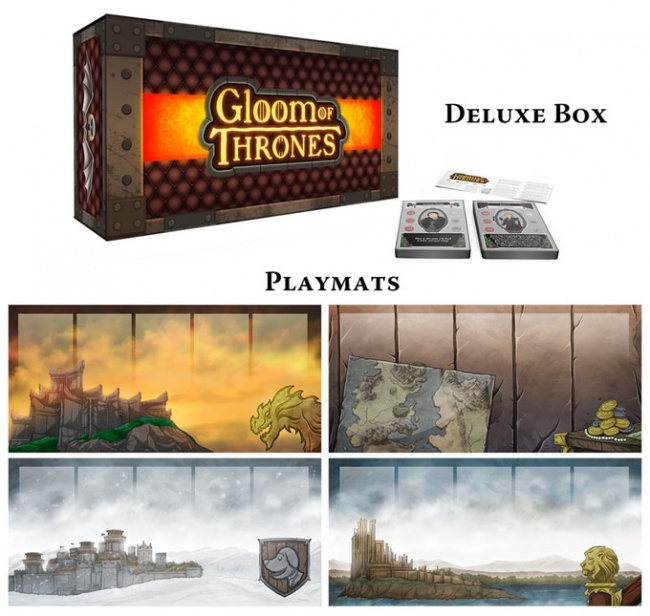 The regular edition of the game comes with 110 cards and a rules sheet. A deluxe edition available to backers who pledged at least $50 also contains four full-color playmats and a metal Porcelain Throne token.
A retailer backer option is available via Kickstarter, which gives retailers access to the otherwise unavailable deluxe edition. The pledge counts as a deposit towards a 50%-off direct order from Atlas or buys two copies of the regular version and two copies of the deluxe edition of the game. MSRP of the regular edition is $24.95.
Gloom of Thrones
is for two to five players, ages 14+, and plays in 30 minutes to an hour.
Click Gallery below for full-size Gloom of Thrones images!