Cubicle 7 has shared information on two upcoming releases for the
Warhammer Fantasy Roleplay Fourth Edition (WFRP4)
game.
WFRP4 debuted last summer (see "'Warhammer Fantasy Roleplay Fourth Edition' Launches This Summer"), and now the publisher has unveiled the WFPR: Enemy in Shadows – Enemy Within Campaign Director's Cut Vol. 1 and the Enemy in Shadows Companion.
The Enemy Within is one of the game's most highly regarded campaigns, and this revised and updated "Director's Cut" presents the first part of the campaign to a new generation of players. WFPR: Enemy in Shadows – Enemy Within Campaign Director's Cut Vol. 1 includes the first two adventures of the campaign, Mistaken Identity, and Shadows over Bogenhafen, updated by Grame Davis, one of the original writers of the campaign. There are also "Grognard Boxes" that add new ways to play through the adventures if players are already familiar with the story. It includes a guide to the town of Bogehafen, the central location in the Reikland, with locations to visit and explore.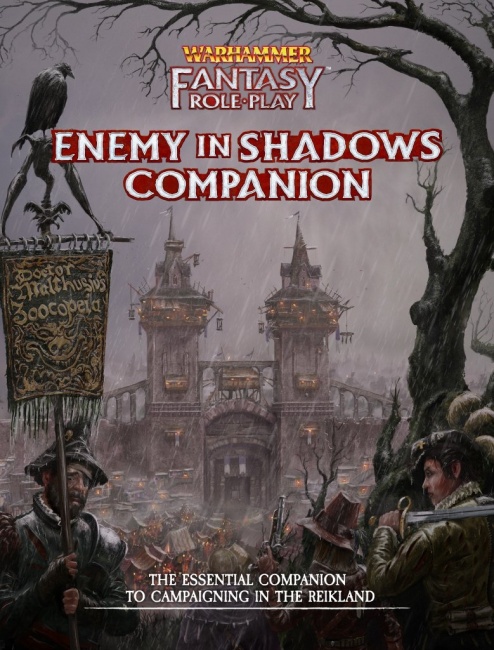 The
Enemy in Shadows Companion
is a companion to
Enemy in Shadows,
and is the first in a 5-part series of companion volumes to the
Enemy Within
campaign. Subtitled
The Essential Companion to Campaigning in the Reikland
, it includes supplementary materials to expand
Enemy in Shadows,
and any other
WFRP
games set in the Empire. There are six ready-made characters, a cast of NPCs, full rules for traveling the roads of the Empire, a deeper look at the Empire setting, and a collection of short adventures and encounters, including updated versions of classics On the Road, The Affair of the Hidden Jewel, and The Pandemonium Carnival. There is also guest commentaries by two of the original campaign writers: Phil Gallagher and Grame Davis.
Release is planned for Q3. MSRPs were not announced at this time.
C7 recently shared the cover and details for the Age of Sigmar Roleplaying Game (see "'Age of Sigmar RPG' Cover Revealed").