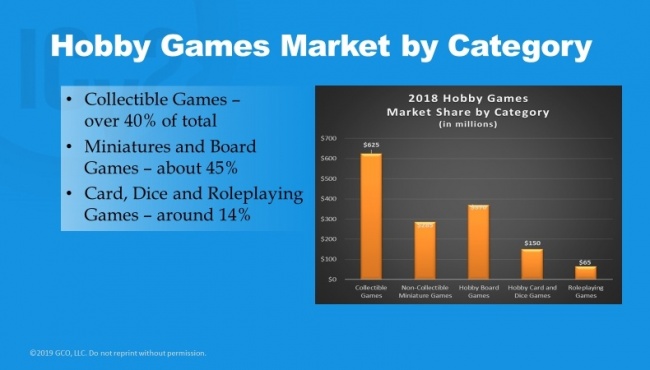 Hobby game sales in the U.S. and Canada totaled $1.495 billion in 2018, down 3% vs. the year ago period, according to a new estimate compiled by ICv2. The decline was driven by a 14% decline in collectible games, which was the only down category of five. Growth rates in the other categories ranged from flat (Hobby Card and Dice Games) to an 18% increase (roleplaying games).
By channel, hobby game sales in game store channel and Kickstarter grew, while sales in the mass channel declined substantially, primarily in collectible games.
The 2018 decline is the first for the hobby games category since we started estimating sales back in 2013 (a time series chart and a graph by category are embedded in this article and available in the Gallery below). Even with the decline, 2018 was the biggest year since 2013 except for 2017. And hobby game sales are still more than double what they were in 2013.
Collectible Games, the largest category, shrank 14%, from $725 million in 2017 to $625 million in 2018.
Hobby Board Games, the second largest category, grew 7% from $345 million in 2017 to $370 million in 2018.
Non-Collectible Miniatures were up again in 2018 after a big year in 2017, growing 7% from $270 million in 2017 to $285 million in 2018.
Hobby Card and Dice Games were flat in 2018 at $150 million.
Roleplaying Games, the smallest category, had the biggest move, up 18% from $55 million in 2017 to $65 million in 2018.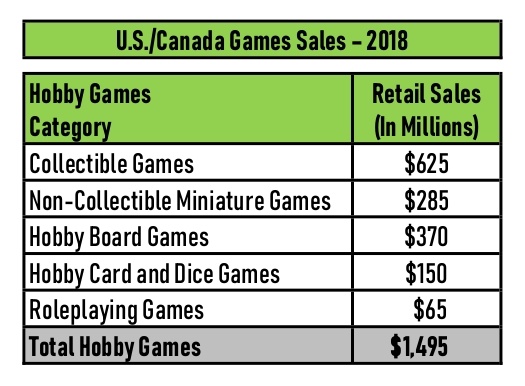 We define "hobby games" as those games produced for a "gamer" market, generally (although not always) sold primarily in the hobby channel of game and card specialty stores. We define the "hobby games market" as the market for those games regardless of whether they're sold in the hobby channel or other channels. Our estimates include sales in the U.S. and Canada.
The total hobby games market estimate is derived from estimates for five individual categories: collectible games (which include Trading/Collectible Card Games, Collectible Miniatures Games, and Collectible Dice Games), miniatures (non-collectible), board games, card and dice games, and roleplaying games.
Our primary means of collecting data about hobby games sales is interviews with key industry figures with good visibility to sales in various categories and channels. We also review data released by publicly traded companies, publicly available NPD data, and Kickstarter data and analysis, especially that released by ICO Partners. There were no major changes in methodology for 2018.
Note that in some cases, to estimate hobby games market size, we are including channels that are not typically included in our seasonal bestseller charts.
The decline in hobby game sales in 2018 follows a year of slowing growth in 2017. For our regular coverage of hobby game sales for 2017, see "
Hobby Games Top $1.5 Billion
." For the more in-depth version of the article on our ICv2 Pro site, see "
Pro-Hobby Games Top $1.5 Billion
."
For in-depth analysis of 2018 hobby game sales on our Pro site, click here "
Hobby Game Sales Total $1.495 Billion in 2018 - In Depth
."
For audio and the deck from ICv2 CEO Milton Griepp's ICv2 White Paper presentation on the 2018 games market on the ICv2 Pro site,
click here
.
Click Gallery below for full-size charts from this article!