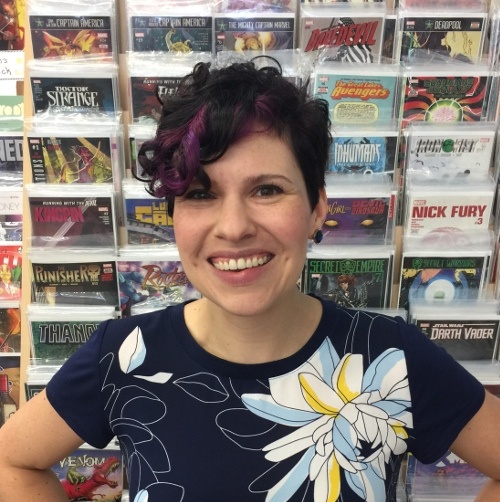 Kids comics are a major part of the game at The Dragon in Guelph, Ontario. More than that, "It's probably my favorite thing to talk about," says owner Jenn Haines.
Haines is passionate about the subject, and with good reason. She's used kids comics and a larger family concept to expand her business from one store in 1998 to three today.
"We consider ourselves to be a family-focused business, which is distinct from family-friendly," she says. "Family-focused means that everything we do, the entire ethos of the store, is based around getting the whole family to shop at our stores. We have kids-devoted sections in each store."
Haines stresses that the kids sections include both comics and games, and other products such as plushes. The sections are geographically set apart from the grown-up material, so that kids won't wander into something inappropriate.
"No one's going to stumble from
Amulet
to
The Walking Dead
here," she says.
The "kids" category accounts for about 10% of The Dragon's sales in both comics and games, but Haines thinks that amount balloons to something that goes well beyond the bottom line.
"Its value goes well beyond the dollars," she says. "It creates an atmosphere for families. It creates the whole structure of our stores, which includes how clean and bright they are, how the staff interacts with customers, everything. It trickles down into how and where we advertise. 10 percent doesn't look big on the bottom line, but it's a really, really important aspect of who we are."
Aisles at The Dragon are purposefully set wide enough so that families can turn a stroller all the way around in them, and yes—they want to get customers that young.
"We want to encourage reading, and the passion for reading," Haines says. "We want people to know that kids can come in and find books here."
And Haines gushes about the width and breadth of quality kids content that can be found today as opposed to eight years ago, when The Dragon first popped out a kids section.
"There wasn't a lot eight or nine years ago," she says. "It was
Bone
, and some superhero stuff. Now we have an embarrassment of riches. The volume and quality is so much higher than it was then."
Haines has high praise, and sees high sales, for
Secret Coders
,
Phoebe and Her Unicorn
, and the
Narwhal
series. She also has found a few under-the-radar gems.
"We have a Canadian series called
Jon Le Bon
, a humor series about a secret agent who's really bad at his job, but because his dad was really good at it, everyone assumes he should be as well," Haines says. "
The Three Thieves
by Scott Chantler is an epic high fantasy that does really well."
And the high end is especially high at The Dragon.
"
Dog Man
is a huge hit, and Scholastic puts out great books across the board," Haines says. "They have a great eye for talent; for design that attracts kids. When the new
Dog Man
was released on Christmas Eve [2018], we assured people we were going to have it, and that got people through our door for sure. If you had to have it under the tree, we had it for you."
And therein lies a key: Haines encourages direct-market retailers not to worry about fighting price with big-box retailers or Amazon. Just dive in, and commit.
"Stores know that kids books are big. They are one of the few sectors in the broader book market that's growing," she says. "I encourage stores to go all in, and give it time to develop. When we first put our kids section in, it took almost a year for us to really see it produce the results we wanted. In retail, it's easy to give up quickly if something isn't producing right off the bat. But you have to give it time. This is now the section in our stores that people gravitate to, that kids tell their friends about. Once people see that it's there, and will remain, they'll create your buzz for you."
Click Gallery below for images from The Dragon!