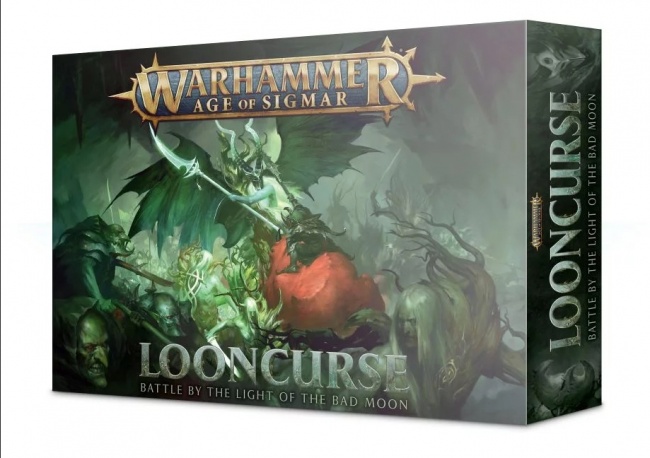 Looncurse
, a new "battlebox" set for Games Workshop's
Warhammer: Age of Sigmar,
will release on May 11, highlighting the Gloomspite Gitz and the Sylvaneth.
The Looncurse battlebox focuses on the conflict between the "bad moon" worshippers of the Gloomspite Gitz and the nature-defending forces of the Oakenbrow Sylvaneth. This boxed set features two playable armies, one for each side, with a total of 37 Citadel miniatures, as well as warscroll cards and special rules for the miniatures.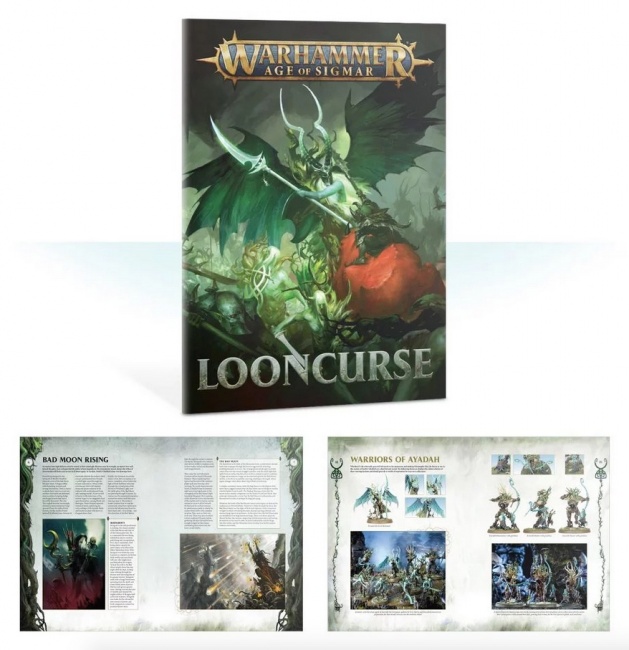 In addition to the new rules, the 40-page booklet chronicles the background behind the conflict between the two forces, a gallery with pictures of professionally painted models, and three new narrative-play scenarios. Rounding out the battlebox is a set of double-sided tokens to help players keep track of in-game conditions. MSRP is $160.00.
The Looncurse set will be the first opportunity for fans of the game to acquire two new miniatures (and the rules to use them in the game): the Loonboss on Giant Squig and the Arch-Revenant.
Click on the gallery below for images of the miniatures included in the box.
The Gloomspite Gitz is a relatively new faction, introduced into the game in January (see "Grots Invade 'Age of Sigmar'"). Later this month, that faction will also be featured in PlayFusion's licensed Age of Sigmar trading card game (see "Bad Moon Rises Over 'Warhammer Age of Sigmar: Champions'").
Games Workshop recently expanded the Age of Sigmar game with Battletomes for the Fyreslayers and Hedonites of Slaanesh factions (see "More 'Warcry' Details, More 'Age of Sigmar,' Bigger '40,000' Battles").