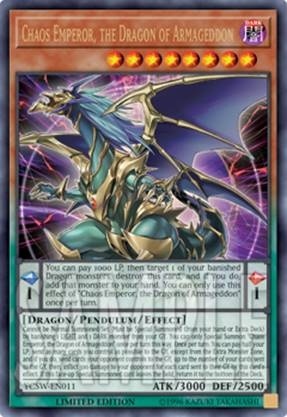 Konami Digital Entertainment's
Yu-Gi-Oh!
Championship Series (YCS) will be in Knoxville, Tennessee at the World's Fair Exhibition Hall on June1-2. The event will be the final YCS event for the 2018-2019 Dueling season.
YCS Knoxville will be the first event debut for the Dark Neostorm core booster.
The top Duelist of the weekend will receive an Ultra Rare YCS Prize Card: Chaos Emperor, the Dragon of Armageddon. They will also receive a trophy, YCS branded premium messenger bag, an invite and VIP status to the 2019 World Championship Qualifier, and 30 Ultimate Duelist Series Points and World Qualifying Points. 2nd and 3rd place finishers will receive a Super Rare version of Chaos Emperor, the Dragon of Armageddon. The top eight finishers will all receive a Playstation 4 Pro 1TB system. 9th through 16th place will also receive 24 booster packs of the current booster release. All top 32 finishers will receive a Yu-Gi-Oh! Championship Series Top Cut Game Mat featuring Chaos Emperor, the Dragon of Armageddon.
Pre-registration for YCS Knoxville will be on Friday, May 31 from 3-7 p.m. at the World's Fair Exhibit Hall. All Duelists who pre-register and submit their valid Deck list will receive one random Millennium Dice. Registration will open on Saturday, June 1 from 8-9:45 a.m. with Round 1 beginning promptly at 10 a.m. Upon registering, all Duelists will receive five booster packs of Dark Neostorm. Duelist can also get a "Kuriboh Headband" for registering, while supplies last.
The Knoxville main event will be the Constructed Advanced Format.
In addition to the main event, two Dragon Duel tournament will be held for Duelists born in 2006 or later. Each will be played using the Advanced Constructed Format, with the winner of each day competing in a Best-of-3 match. The winner will earn a Dragon Duel Championship Trophy, a Super Rare set of Darklords YCS Prize Cards and the title of YCS Knoxville Dragon Duel Champion.
A wide selection of Public Events will also be held all weekend, including 2019 Regional Qualifiers, Ultimate Duelist Series Qualifiers, 3 vs. 3 Team Tournaments, two ATTACK OF THE GIANT CARD!! events, plus Win-A-Mat, Sealed Structure Deck, Sealed Starter Deck, Battle City, Yu-Gi-Oh! School Tournament Series, Duelist League, Speed Duel Tournaments (Sealed and Constructed), and Duel Link tournaments.
Yu-Gi-Oh! Speed Duel: Attack From The Deep will release the week of the event on May 31 (see "'Yu-Gi-Oh! Speed Duel: Attack From The Deep'")