Alter Reality Games, a northeastern Ohio games retailer and tournament organizer, will release a new TCG, Argent Saga, on August 1. Pre-releases will be held July 26-28.

In Argent Saga, players will face off against each other in the world of Argos, deploying Units and casting Spells to take control and protect the Elemental Towers.

The first booster set, Betrayal, includes 126 cards: 13 Argent Rares, 18 Super Rares, 25 Rares, 60 Commons, 5 Box Topper Cards, 9 Serial Numbered Cards (1-1000) and 60 Foil Variants of common cards.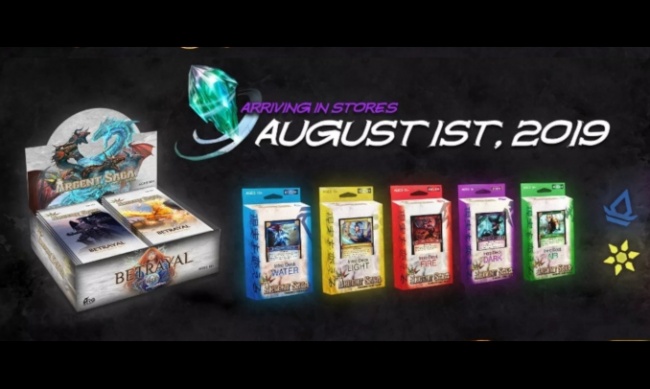 The new game will be offered in
Booster Packs
($3.99) and
Intro Decks
($19.95). The company will support a Minimum Advertised Price of $2.95 for
Boosters
and $14.95 for
Intro Decks
. A box of 24 Booster Packs will include 2 Argent Rares, 7 Super Rares, 15 Rares, 8 Foil Commons, 184 Commons, 1 Box Topper Card, 7-8 Redemption Point Cards, 14 Basic Shards, 2 Tokens, and randomly inserted serial numbered cards. If our math is right that makes a Booster Pack 9 cards.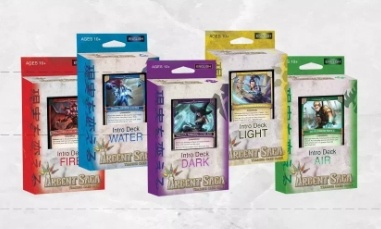 Intro Decks
will be available in five varieties,
Fire, Water, Dark, Light, and Air
, and will be sold in a five-deck Display Box.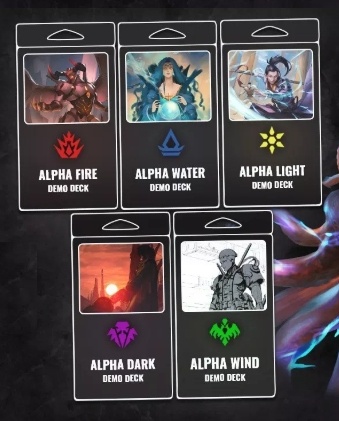 Five
Alpha Intro Demo Decks
, limited edition promo decks with sketch art for the cards from the first wave of the Argent Saga TCG will be released this month. The cards in the
Demo Decks
will be playable with the release of the game on August 1.
The company currently has distribution through Southern Hobby Supply, Peachstate Hobby Distribution, and direct-to-retailer sales.
Alter Reality will run a Kickstarter for
Argent Saga: Betrayal
beginning later this month.