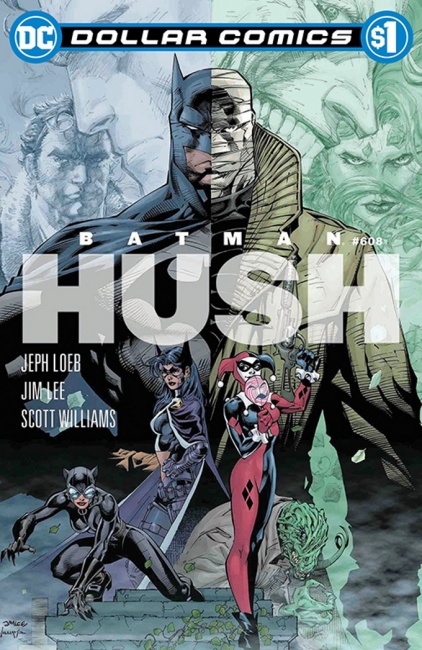 DC Comics has announced the September release of four
Dollar Comics
, reprints of classic issues designed to lure in new readers with $1 cover price. The first of DC's September
Dollar Books
is a reprint of
Detective Comics
#854, the first chapter in Batwoman's epic clash with the Religion of Crime, which is due on September 4. One week later comes a reprint of
Batman
#608, the first chapter in the classic "Hush" storyline, followed in weekly intervals by
Harley Quinn
#1, a reprint of her debut New 52 issue, and
Crisis on Infinite Earths
#1, a reprinting of the first issue of Marv Wolfman's 1980's
Crisis
crossover.
With its Dollar Books, DC is following the leads of other publishers, who have found promotionally-priced sampling productive. Image, with the longest-running program, has done over 100 $1 first issues in its Image Firsts program, and is currently reprinting Paper Girls #1, Monstress #1, and I Hate Fairyland #1 for July, in time for San Diego Comic-Con. Marvel's True Believers program began in 2015 (see "$1 Marvels"); their current $1 program is the July-shipping True Believers: Absolute Carnage series of $1 dollar-priced reprints of ten key issues featuring Cletus Kasady, the first and best known of the Carnage symbiotes (see "Preview: True Believers: Absolute Carnage Cover").
DC's Dollar Books reprints feature a new trade dress over the classic cover images.
Click Gallery below for cover art!