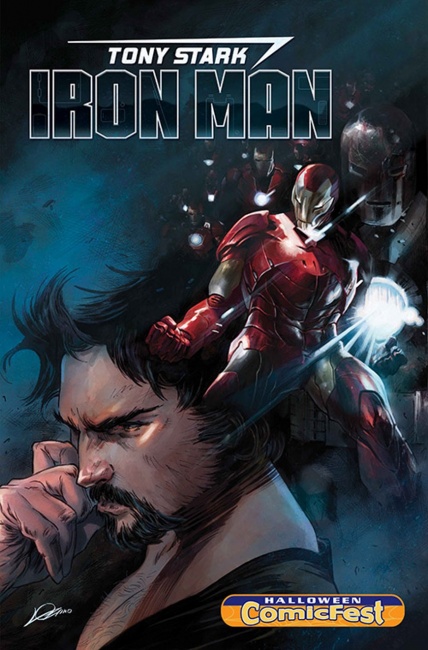 Diamond Comic Distributors has announced it final lineup of comic book titles that will be available at this year's Halloween ComicFest, which will take place at participating comic shops on Saturday, October 26. Twenty-eight titles will be available including 19 full size and 9 mini comics.
The all ages mini comics, which include such popular properties as the DC Superhero Girls, Nickelodeon's The Loud House, Pokemon, Underdog and the Archie gang, are also available for purchase in packs of 25 at the beginning of October—they make perfect low calorie Halloween giveaways.
The number of comics slated for distribution at HalloweenFest 2019 declined slightly from the 34 titles available at Halloween ComicFest 2018 (see "Halloween ComicFest 2018 Titles Revealed").
Here is a complete list of the 2019 Halloween ComicFest titles:
Halloween ComicFest 2019 Full-Size Comics

AfterShock Comics | Dark Red #1 Halloween ComicFest B&W Edition
Aspen Comics | Aspen Mascots and the Portals of Doom

Benitez Productions | Lady Mechanika: La Dama de la Muerte
Dark Horse Comics | House of Fear: Attack of the Killer Snowmen!
DC Comics | DCeased #1 HCF Special Editon
DC Comics | The Secret Spiral of Swamp Kid / Black Canary: Ignite HCF Special Edition
IDW Publishing | Sonic the Hedgehog #1 HCF Edition
Keenspot Entertainment | Junior High Horrors Halloween Special
Kodansha Comics | Tales of Berseria Preivew & Other Game Manga
Mad Cave Studios | Battlecats: Halloween ComicFest Special
Marvel Comics | Ghost Rider: King of Hell #1
Marvel Comics | Iron Man: Road to Iron Man 2020
Marvel Comics | Miles Morales: Spider-Man #0
Marvel Comics | Star Wars: Boba Fett #1
Random House Children's Books | Doodleville/ Aster and the Accidental Magic Exclusive First Look
Source Point Press | The Adventures of Cthulhu Jr. and Dastardly Dirk
Vertical Comics | Bakemonogatari (Monster Tale) Exclusive HCF Edition
VIZ Media | The Drifting Classroom/ Smashed
YouNeek Studios | Iyanu: Child of Wonder

Halloween ComicFest 2019 Mini Comics

Albatross Funnybooks | Spook House

American Mythology | Under Dog Halloween Hijinks

Archie Comics | Archie's Madhouse Magic

BOOM! Studios | Just Beyond: Horror at Happy Landings
DC Comics | DC Superhero Girls: At Metropolis High Halloween ComicFest Special Edition
Golden Apple Books | Blastosaurus Halloween Special
IDW Publishing | Usagi Yojimbo HCF Mini Comic
Papercutz | The Loud House: "A Very LOUD Halloween"
VIZ Media | Pokémon Adventures