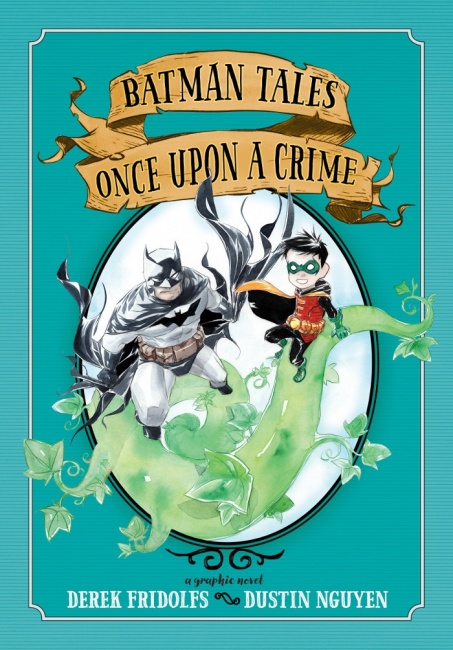 DC Entertainment announced a raft of new middle-grade and young adult graphic novels today at the American Library Association Annual Conference, including the titles and creative teams for over 25 previously unannounced 2020 and 2021 volumes, as well as revealing covers, synopses, and dates for the Spring 2020 Middle-grade list.
All of these titles will be published under DC's newly announced imprints, DC Kids for kids 8-12 and DC for readers 13 and up (see "DC To Abandon Vertigo, Zoom, and Ink Brands").
The previously unannounced Spring 2020 middle-grade graphic novels include (covers in gallery below):
February 2020
Batman Tales: Once Upon a Crime, written by Derek Fridolfs with art by Dustin Nguyen, includes four separate stories mashing up the DC Universe with classic fairytales: Damian Wayne as Pinocchio, Alfred in Wonderland, Gotham PD searching for the princess who stole the pea, and Batman on a quest with the Snow Queen.
Zatanna & the House of Secrets, written by Matthew Cody with art by Yoshi Yoshitani, tells the story of what happens to Zatanna and her pet rabbit Pocus when Zatanna stands up to a bully at school and loses her father in the House of Secrets.
March 2020
Batman: Overdrive, written by Shea Fontana with art by Marcelo DiChiara, is the story of a young, pre-Batman Bruce Wayne as he builds the Batmobile as he's dealing with his parents' untimely deaths.
DC Super Hero Girls: Powerless, written by Amy Wolfram and illustrated by Agnes Garbowska, is the second OGN based on the Cartoon Network series. It tells the story of the harrowing experiences of the Metropolis High Hamsters when both the electric grid and cloud computing are knocked out on the same night.
April 2020
Anti/Hero, written by Kate Karyus Quinn and Demitria Lunetta with art by Maca Gil, tells the story of pretty, popular and secretly powerful Piper Parajo and super-smart and snarky loner Sloane McBrute, 13-year-old girls who switch bodies one night and have to figure out how to get back.
ArkhaManiacs, written by Art Baltazar and Franco with art by Baltazar, gives a unique, cartoony take on a Gotham City apartment building (Arkham) and the people and creatures that live there.
May 2020
My Video Game Ate My Homework, written and illustrated by Dustin Hansen, follows a 13-year-old kid who's failing science as he and his friends find a virtual world where they have to overcome digital creatures and solve puzzles to get home.
DC previously announced the January 2020 middle-grade titles, Diana, Princess of the Amazons and Green Lantern: Legacy (see "DC Reveals More on DC Zoom and DC Ink Fall/Winter Lineup").
DC also revealed titles (some not final) and teams for a huge list of 2020 and 2021 graphic novels for younger readers.
2020-2021 Young Adult Titles
Catwoman: Soulstealer, adapted by Louise Simonson from Sarah J. Maas' DC Icon prose novel and illustrated by Samantha Dodge
Galaxy: The Prettiest Star, written by Jadzia Axelrod and illustrated by Cait Zellers
House of El Book 1, written by Claudia Gray and illustrated by Eric Zawadzki
I Am Not Starfire, written by Mariko Tamaki
Mister Miracle, written by Varian Johnson
Nubia, written by L.L. McKinney and illustrated by Robyn Smith
Swamp Thing, written by Maggie Stiefvater and illustrated by Morgan Beem
Teen Titans: Beast Boy, written by Kami Garcia and illustrated by Gabriel Picolo
Victor & Nora: A Mr. Freeze Story, written by Lauren Myracle and illustrated by Isaac Goodhart
Whistle, written by E. Lockhart and illustrated by Manuel Preitano
Wonder Woman: Tempest Tossed, written by Laurie Halse Anderson and illustrated by Leila del Duca
You Brought Me the Ocean, written by Alex Sanchez and illustrated by Julie Maroh
Zatanna: The Jewel of Gravesend, written by Alys Arden and illustrated by Jacquelin De Leon
2020-2021 Middle-Grade Titles
Amethyst: Princess of Gemworld, written by Shannon and Dean Hale
Batman and Robin…and Howard, written and illustrated by Jeffrey Brown
DC Super Hero Girls, written by Amy Wolfram
Dear Super-Villains, written by Michael Northrop and illustrated by Gustavo Duarte
Green Arrow: Stranded, written by Brendan Deneen and illustrated by Caleb Hosalla
Indestructibles Book 1, written by Ridley Pearson
Lois Lane, written by Grace Ellis and illustrated by Brittney Williams
Metropolis Grove, written and illustrated by Drew Brockington
Primer, written by Thomas Krajewski and Jennifer Muro and illustrated by Gretel Lusky
Superman Smashes the Klan, written by Gene Luen Yang and illustrated by Gurihiru
Super Sons Book 3: Escape to Landis, written by Ridley Pearson and illustrated by Ile Gonzalez
Teen Titans Go! to Camp, written by Sholly Fisch
Teen Titans Go! Roll with It, written by Heather Nuhfer and P.C. Morrissey
The Mystery of the Meanest Teacher: A Johnny Constantine Graphic Novel, written by Ryan North and illustrated by Derek Charm
Click Gallery below for full-size Spring 2020 middle-grade covers!