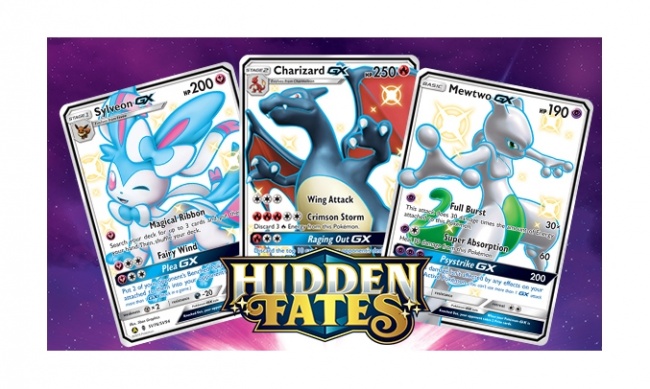 The Pokemon Company will launch the
Hidden Fates
expansion for the
Pokemon Trading Card Game
on August 23.
The Pokemon TCG: Hidden Fates expansion introduces more than 150 cards to the game, including the first TAG TEAM trio: Moltres & Zapdos & Articuno-GX and eight new Pokemon-GX monsters. The main part of the expansion will include a total of 68 new cards, with the remainder forming the "Shiny Vault" subset that features "Secret rare" cards, Shiny Pokemon, and full-art Trainer cards drawn from previous Sun & Moon expansions. All 94 Shiny Vault cards will sport special etched artwork.
Click Gallery below to see cards from the set.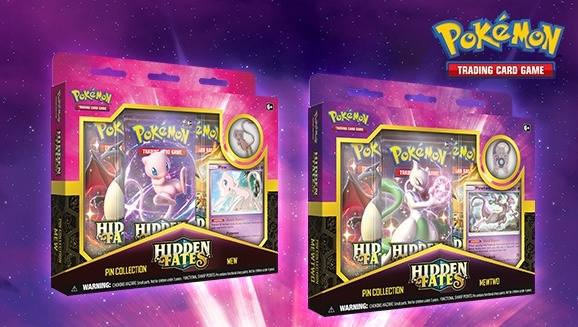 The cards from the new expansion will make their first appearance in the
Pokemon TCG: Hidden Fates Pin Collections
. Two sets will be offered, featuring Mew or Mewtwo, and each set will have one of two foil promo cards, one of two collector's pins, and three
Hidden Fates
booster packs. MSRP is $14.99 each.
Hidden Fates cards will also be offered in collector tin sets starting on September 6, each featuring a different Pokemon character: Charizard-GX, Raichu-GX, or Gyarados-GX. The tins come with a foil card of the character and four Hidden Fates boosters. MSRP is $19.99 each.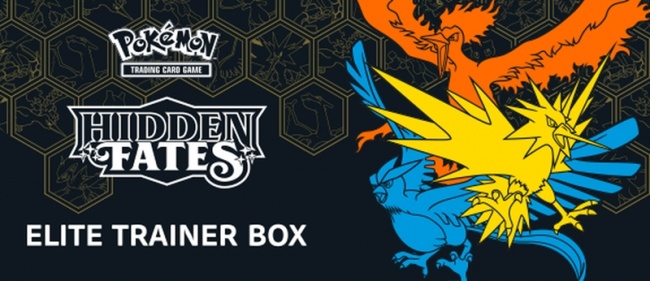 Rounding out the launch will be the
Hidden Fates Elite Trainer Box
, which will release on September 20. This set includes 10
Hidden Fates
boosters, a full-art foil promo card featuring the Moltres, Zapdos, and Articuno Tag Team trio, 65 card sleeves with the trio's artwork, 45 Energy cards, 6 damage-counter dice, a competition-legal coin-flip die, 3 acrylic markers, and a player's guide to the
Hidden Fates
expansion, all in a reusable collector's box with four card dividers. MSRP is $49.99.
In May, the company released the Unbroken Bonds set (see "New Tag Teams Join 'Pokemon TCG'").