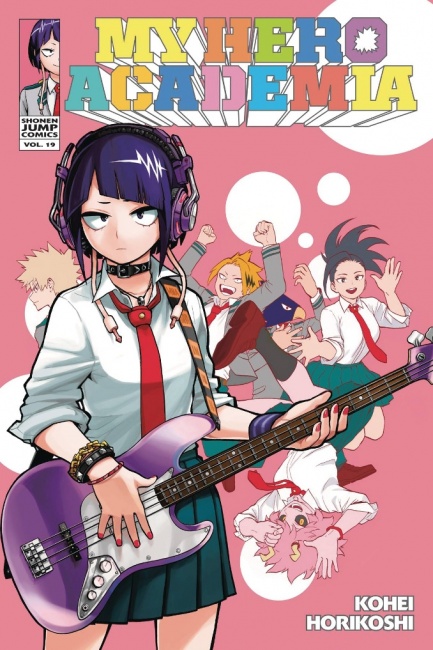 Manga dominates the list of the Top 20 Adult Graphic Novels in the book channel, based on NPD BookScan data for June (6/2/19-7/6/19) provided to ICv2, but the array of manga is more diverse than usual.
Last month, there were only five volumes of
My Hero Academia
in the top 20; in June, with a new volume topping the chart, there are seven. And then there are six other manga titles, including the first volume of
Komi Can't Communicate
in the number four position, an unusually high spot for a debut manga that doesn't even have an anime in Japan yet. Three of the six manga have been on the chart before: volume 16 of
One-Punch Man
(which charted in May),
Smashed: Junji Ito Story Collection
(charted in April and May), and the first deluxe volume of
Berserk,
which was released in March and charted in March, May, and now June. So these series are showing some staying power.
The hardcover edition of
Saga Book Three,
a June release, sits at number three on the chart.
Only one traditional superhero comic cracks the top 20 this month, and that's the deluxe edition of
Detective Comics
#1000, at number eight, although an untraditional superhero comics,
The Umbrella Academy,
comes in at number 10.
In terms of publishers, VIZ Media owns the chart with 12 titles, and Dark Horse Comics has three.
NPD BookScan Top 20 Adult Graphic Novels – June 2019 (6/2/19 - 7/6/19)

Rank

Title

Author

Publisher

1

MY HERO ACADEMIA VOL. 19

KOHEI HORIKOSHI

VIZ MEDIA

2

MY HERO ACADEMIA VOL. 1

KOHEI HORIKOSHI

VIZ MEDIA

3

SAGA BOOK THREE HC

BRIAN K. VAUGHAN

IMAGE COMICS

4

KOMI CAN'T COMMUNICATE VOL. 1

TOMOHITO ODA

VIZ MEDIA

5

MY HERO ACADEMIA VOL. 2

KOHEI HORIKOSHI

VIZ MEDIA

6

SPLATOON VOL. 6

SANKICHI HINODEYA

VIZ MEDIA

7

DETECTIVE COMICS #1000: THE DELUXE EDITION HC

VARIOUS

DC COMICS

8

MY HERO ACADEMIA VOL. 3

KOHEI HORIKOSHI

VIZ MEDIA

9

THE UMBRELLA ACADEMY VOL. 1: APOCALYPSE SUITE

GERARD WAY

DARK HORSE COMICS

10

MARCH: BOOK ONE

JOHN LEWIS

TOP SHELF PROD.

11

MY HERO ACADEMIA VOL. 18

KOHEI HORIKOSHI

VIZ MEDIA

12

THE PROMISED NEVERLAND VOL. 10

KAIU SHIRAI

VIZ MEDIA

13

ONE-PUNCH MAN VOL. 16

ONE

VIZ MEDIA

14

SMASHED: JUNJI ITO STORY COLLECTION HC

JUNJI ITO

VIZ MEDIA

15

BERSERK DELUXE VOL. 1 HC

KENTARO MIURA

DARK HORSE COMICS

16

THE ADVENTURE ZONE: HERE THERE BE GERBLINS

CLINT MCELROY

FIRST SECOND BOOKS

17

STRANGER THINGS: THE OTHER SIDE VOL. 1

JODY HOUSER

DARK HORSE COMICS

18

MY HERO ACADEMIA VOL. 4

KOHEI HORIKOSHI

VIZ MEDIA

19

MY HERO ACADEMIA VOL. 17

KOHEI HORIKOSHI

VIZ MEDIA

20

THE HANDMAID'S TALE: THE GRAPHIC NOVEL HC

MARGARET ATWOOD

NAN A. TALESE

Source: The NPD Group/BookScan
For the charts with the actual sales numbers from NPD BookScan, see these articles on the ICv2 Pro site:
June 2019 NPD BookScan - Top 20 Adult Graphic Novels with Actual Sales


NPD BookScan collects weekly point-of-sale data on print books from over 16,000 locations including e-tailers, chains, mass merchandisers, independent bookstores, and more. NPD BookScan covers approximately 85% of the U.S. trade print book market. The ranks on this chart are based on piece sales. Some publishers classify titles that are primarily text, or art books, as graphic novels; we've removed those titles from the ranking above.

For past BookScan Top 20 Graphic Novel lists, see the "BookScan Top 20 GN Index."