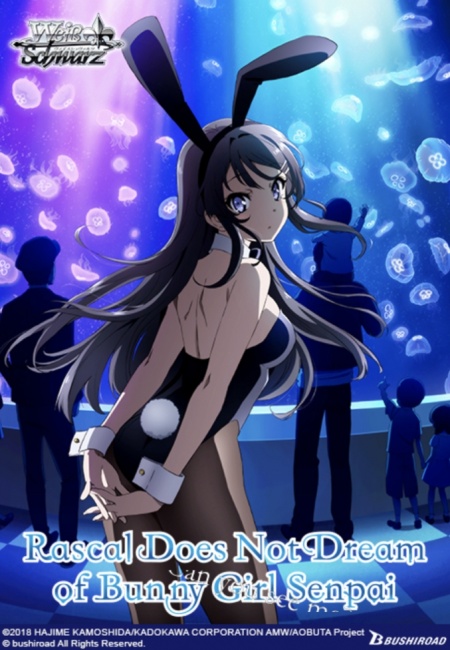 Bushiroad will release
Rascal Does Not Dream of Bunny Girl Senpai Trial Deck+
and
Booster Pack
on November 15, 2019.
The Rascal Does Not Dream of Bunny Girl Senpai Trial Deck+ will include 50 cards, with 20 types of cards and 7 parallels. Parallels card are randomly inserted in each deck and every deck contains 2 shiny cards. Each deck may contain either a special RRR rare card with special embossing (1 of 4 types) or a SP Sign card of the voice cast. There are 6 decks per display, with 8 displays per carton.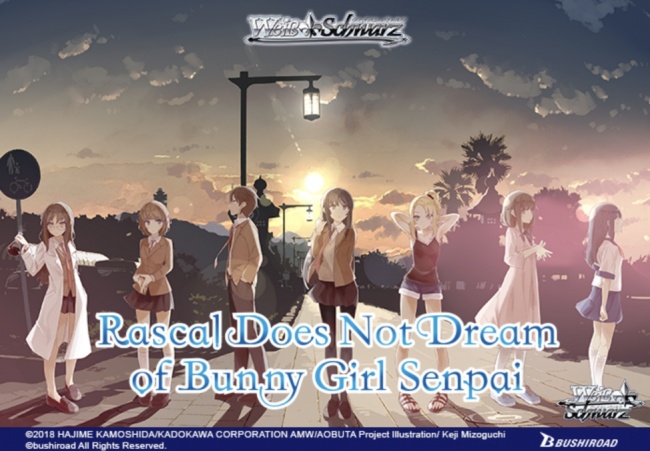 The
Rascal Does Not Dream of Bunny Girl Senpai Booster Packs
will contain cards from a 100 card set, including 32 parallels, featuring original artwork from both the animation studio and illustrator for the light novel series. The set includes 2 secret rarity card types and every pack has a chance to contain a signed card by the voice cast. There are 8 cards per pack, with 20 packs per display, and 16 displays per carton. Each display will include 1 of 6 exclusive PR cards and every carton will include 4 English Edition exclusive rubber playmats.
Cards from the Trial Deck+ and Booster Pack may be used together with cards with card numbers beginning in [SBY/].
Bushiroad released Batman Ninja for Weiss Schwarz earlier this month (see "'Batman Ninja' Comes to 'Weiss Schwarz'").