Bushiroad is adding a high concept anime
Batman Ninja
to its English Edition
Weiss Schwarz
Trading Card Game
on July 4.
In Batman Ninja the Dark Knight find himself transported to ancient Japan, where he and his allies must stop the Joker and other villains from Gotham from changing the time line to suit their plans.
The Batman Ninja Trial Deck will include Batman, Catwoman, Nightwing, Robin, Red Robin, and Red Hood as characters. Each 50-card deck includes 20 types of cards, and 7 parallels. It also includes 2 shiny SR cards, and may contain a RRR card with special embossing, or SP sign card of voice cast. The decks are packed 6 to a display, and each carton includes 8 displays.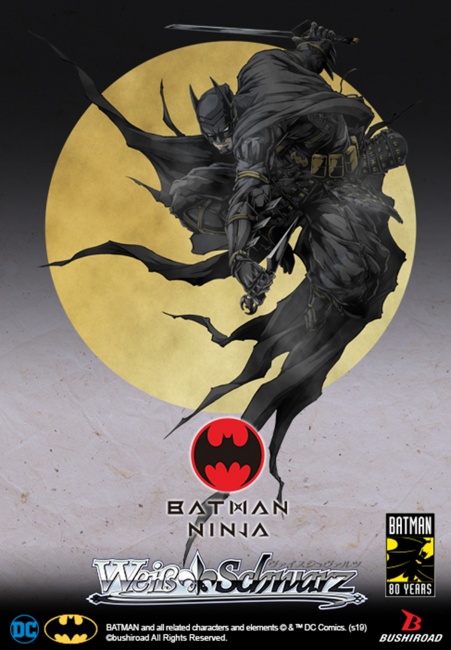 The
Batman Ninja Booster Packs
contain cards from 100 card set, which also includes 26 Parallels. Each pack has a chance to contain a signed card by the voice cast. Each pack includes 8 cards, and each display holds 20 packs. Each carton includes 16 displays. Each display box will include 1 of 7 exclusive PR cards, and each Carton will come with 4 English Edition exclusive Rubber Playmats.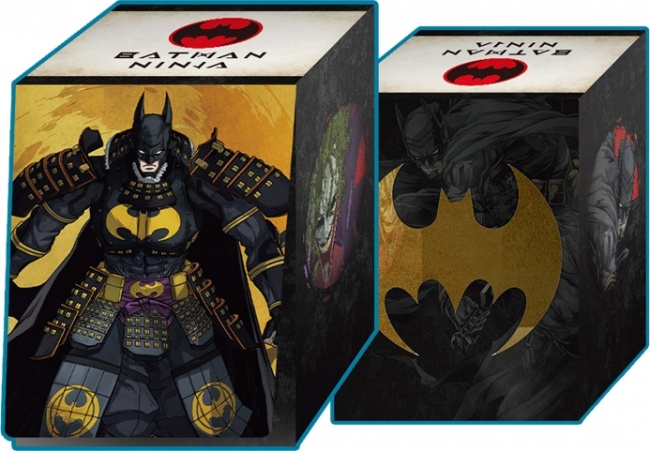 This release will also include a
Batman Ninja Supply Set
which contains a deck case, a pack of 60 card sleeves, and a set of 5
Booster Packs
to strengthen existing decks.
(See images of all supplies in the gallery below.)
Batman Ninja was released last year by DC Entertainment and Warner Bros. Home Entertainment (see "Batman Goes to Feudal Japan"). There were some recognizable anime talents recruited for the project, including writer Kazuki Nakashima (Gurren Lagann), director Jumpei Mizusaki (opening animation of JoJo's Bizarre Adventure), and character designer Takashi Okazaki (Afro Samurai).
Bushiroad also recently announced Re: ZERO – Starting Life in Another World Vol. 2 for Weiss Schwarz this summer (see "'Re: ZERO' Returns to 'Weiss Schwarz'").