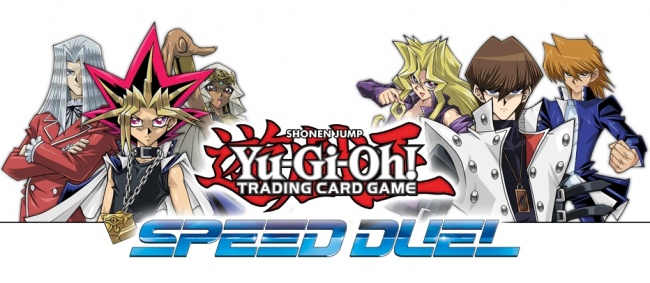 The
Trials of the Kingdom
booster pack expansion for Konami Digital Entertainment's
Yu-Gi-Oh! Speed Duel
trading card game will launch on Friday, December 6.
Inspired by the Duelist Kingdom tournament, the Trials of the Kingdom set features cards used by the characters in that storyline, including Bonz' Zombie Master, Mako Tsunami's Kairyu-Shin, the Time Machine, and the Cocoon of Ultra Evolution.
The complete set has a total of 45 new cards for Speed Duel plus 5 all-new Skill Cards with the following rarities: 34 Common cards, 8 Super Rares, and 8 Ultra Rares. The cards will be packaged in 4-card booster packs with an MSRP of $1.49 each.
Konami is planning an in-store Sneak Peek Event to celebrate the launch, which will feature four new Skill Cards available only during this event.
Speed Duel is a simplified and faster-playing version of the Yu-Gi-Oh! game designed to attract new players, which was launched earlier this year (see "New Details, Pic for 'Yu-Gi-Oh!' Speed Dueling Launch"). Earlier this month, the company released the Scars of Battle Booster Set and Ultimate Predators starter decks for the game (see "'Yu-Gi-Oh!' Gets 'Structure Deck,' 'Speed Duel' Adds Two Releases