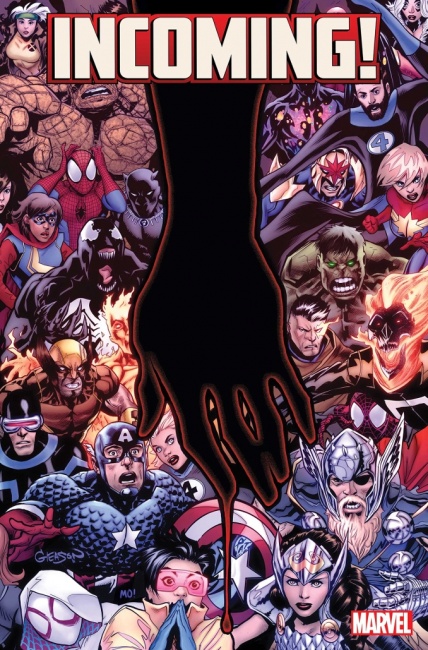 Marvel has revealed at least some details for its next event book
Incoming
, which will launch in December. The company has been teasing the title with images since last week (see Gallery below). The talent list is long, with writing credits for Al Ewing. Dan Slott, Chip Zdarsky, Kelly Thompson, Greg Pak, Eve L. Ewing, Matt Rosenberg, Ed Brisson, Saladin Ahmed, Tini Howard, Jonathan Hickman, Greg Pak, Donny Cates and Jason Aaron; and Humberto Ramos, Jim Cheung, and "more" credited as artists. The A cover is by Patrick Gleason.
The story brings together pretty much the entire Marvel pantheon, including the Avengers, the Fantastic Four, the X-Men, the Guardians of the Galaxy, Daredevil, Spider-Man, the Champions, the Agents of Atlas, Valkyrie, the Immortal Hulk, Jessica Jones, Venom, Ghost Rider, the Masked Raider and more. The characters are united in the search for whoever committed a mysterious murder, with much uncertainty surrounding the quest.
Marvel promises that the story ties together Marvel's storylines for 2019 and lays the groundwork for 2020.
Click Gallery below for Incoming teaser images!