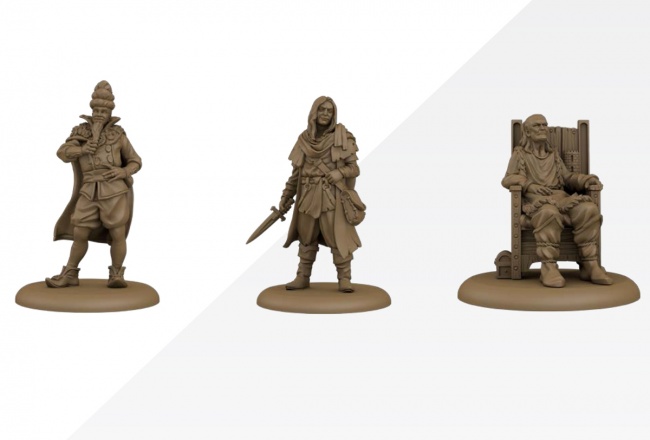 Notorious mercenaries and opportunistic neutrals are the focus of three new miniature kits CMON has announced for the
A Song of Ice & Fire: Tabletop Miniatures Game
.
Ready to join nearly any force, the Neutral Heroes II set features a number of unaligned characters pulled from across the lands of Westeros, with new Unit Attachments, including Bronn and Brienne, Non-Combat Units Jaqen H'ghar and Tycho Nestoris, and new Neutral army commanders like Vargo Hoat and Daario Naharis.
The set includes unpainted miniatures and cards to use them in the game. MSRP is $29.99.

The infamous mercenaries known as the Bloody Mummers are also available for hire, with two miniatures kits. Clad in garish clothes and sporting intimidating makeup, these sellswords are known for their brutality and ruthlessness.
The Bloody Mummers Skirmishers is a dedicated melee infantry unit with an effective counterattack ability and bonuses against unactivated enemies. Supplied unpainted. MSRP is $29.99.

Those looking for a mounted force can recruit the
Bloody Mummers Zorse Riders
, mounted on a hybrid of warhorse and zebra, they specialize in harrassing the enemy's flanks. Supplied unpainted. MSRP is $29.99.
The complete contents of each set and their release date have not been announced.
The new sets join other upcoming releases in the line, including new Night's Watch and Free Folk sets (see "New 'A Song of Ice & Fire' Minis from CMON") and the Champions of the Stag (see "CMON Reveals More 'A Song of Ice & Fire' Miniatures").