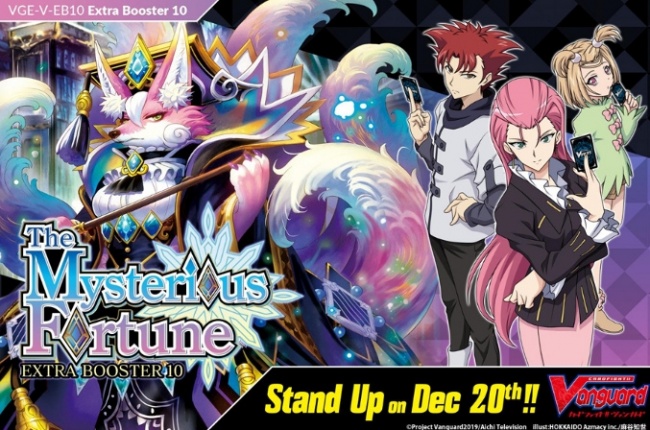 Bushiroad will release
Cardfight!! Vanguard - The Mysterious Fortune
on December 20.
The Mysterious Fortune
features cards from the Golden Paladin, Great Nature, and Neo Nectar clans. The clans are used by three of the main characters from the latest season of the anime. The set will include 9 reissue cards, including "Flame of Victory"; "Night Queen Musketeer, Daniel"; "Foresight Courier"; "Dantegal"; "Elixir Sommelier"; "Dancing Sunflower"; "Watering Elf"; "Slip Pangolin"; and "Dictionary Goat".
The Mysterious Fortune
includes 66 cards (57 new cards and 9 reissues), including 3 VR, 6 RRR, 9 RR, 15 Rare, and 33 Common. There will be various Parallel foils of various cards. Each pack contains 7 random cards, with two cards in every pack being a Rare or above rarity. Each display includes 12 packs, and each carton contains 24 displays.
Retailers are able to host a
Cardfight!! Vanguard: The Mysterious Fortune Sneak Preview
the weekend of December 13. Each
Preview Kit
includes 39 booster packs, eight copies of a PR card, one special PR card, and two premium-rubber play mats featuring the same design.
The Mysterious Fortune
follows the release of
Infinideity Cradle
in November (see "
Cardfight!! Vanguard' Rocks 'Infinideity Cradle'
").