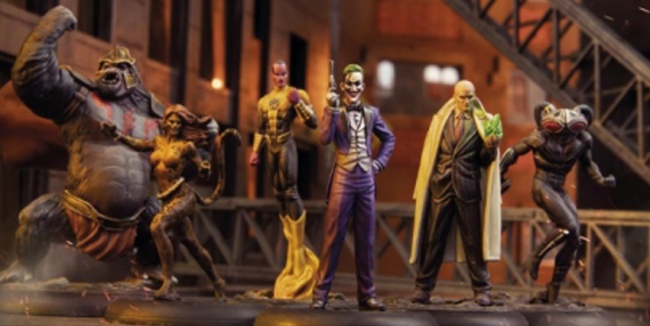 Knight Models revealed
Legion of Doom
and
Lex Corps
, miniatures sets for the
DC Universe Miniatures Game
, into trade in October.
The Legion of Doom miniatures set features some of the Justice League's most notorious adversaries. It comes with six resin miniatures and the Character cards for Joker Rebirth, Cheetah, Sinestro, Luthor, Black Manta, and Gorilla Grodd. The miniatures in this set come unpainted, and this product has a listed MSRP of $62.27.
LexCorp is the most powerful corporation in the DC Universe, and Lex Luthor has outfitted its personal army to battle Superman and is allies. This set comes with 6 resin miniatures, 6 plastic pedestals, and 6 Character cards for the LexCorps army. Miniatures in this set come unpainted, and the set will retail for $56.55.
Knight Models recently announced another DC Universe Miniatures Game set for the Crime Syndicate (see "Knight Models Enters A Parallel Universe With 'Crime Syndicate'").
Click Gallery below to see full-size images!