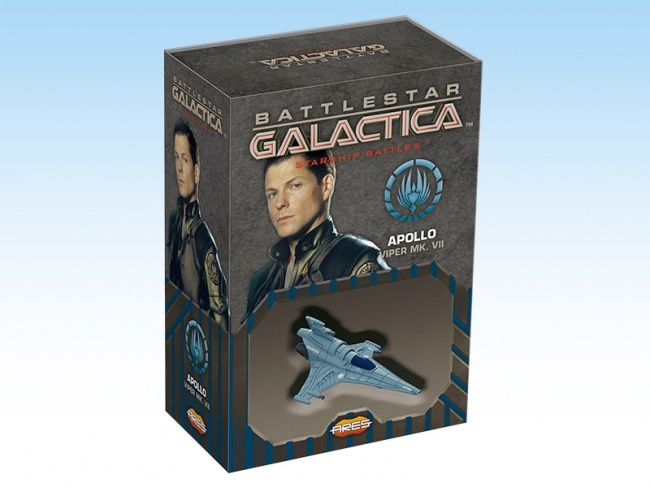 Ares Games will release three new
Battlestar Galactica: Spaceship Packs
featuring the Viper Mk. VII Colonial fighter this December.
Built with cutting-edge technology and a fully-computerized cockpit, the Viper Mk. VII represented a vast improvement over earlier designs. But, the Cylons were able to hack their navigation computers and destroy most of the new fighters with ease. The few that remain have been retrofitted with earlier, un-hackable software, but suffer reduced capabilities due to the change.
There will be three versions of the Viper Mk. VII available for the game:
The Viper Mk. VII (Pegasus), which includes pilot cards for Brent "BB" Baxton.
The Viper Mk. VII (Pegasus/Veteran), with pilot cards for Noel "Narcho" Allison.
The Apollo (Viper Mk. VII), featuring pilot cards for Leland Joseph Adama "Apollo."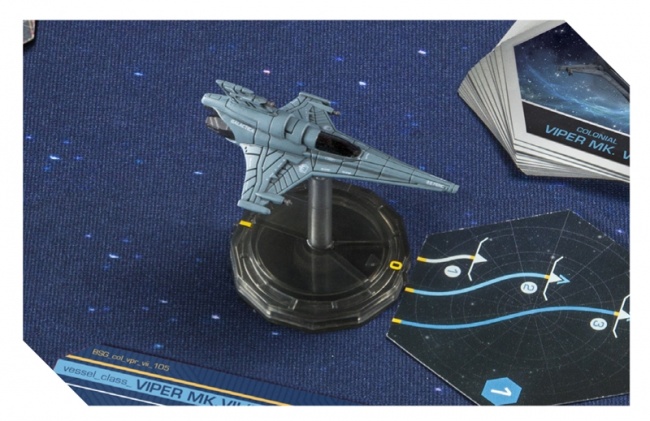 Each pack comes with one pre-painted and pre-assembled ready-to-play model with a gaming base, a ship card and maneuver deck, and a set of pilot cards. MSRP is $16.90 each, sold separately.
Click Gallery below to see all three packaging styles.
Ares released the Colonial Raptor and Cylon Heavy Raider in August (see "'Battlestar Galactica – Starship Battles' Adds New 'Spaceship Packs'").