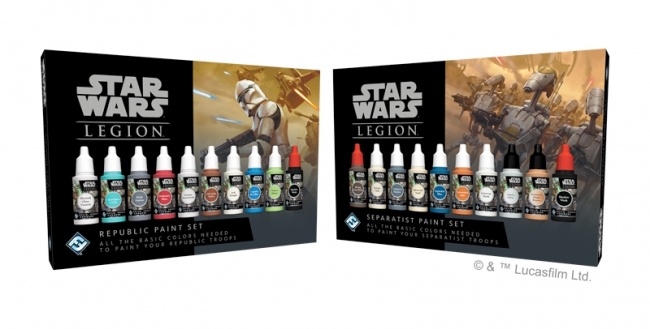 Fans of Fantasy Flight Games'
Star Wars: Legion
will be able to get custom-designed paint sets for their Republic and Separatist armies starting in the first quarter next year with the release of the
Republic Paint Set
and
Separatist Paint Set.
Like the Core Paint Set, Rebel Paint Set, and Imperial Paint Set Fantasy Flight released earlier this year, the two new sets include a variety of pre-mixed colors designed to help painters prepare their Star Wars: Legion miniatures. The Republic Paint Set comes with colors intended for painting clone troopers and Jedi, while the Separatist Paint Set offers colors for droid armies and other Separatist units.
Each set includes both base colors and thinner pigments for doing washes. A total of 10 squeeze bottles are included in each set. MSRP is $29.95 per set.
Fantasy Flight also plans to release the Crashed Escape Pod Battlefield Expansion in the first quarter (see "'Star Wars Legion: Crashed Escape Pod' to Land in Retail Stores").