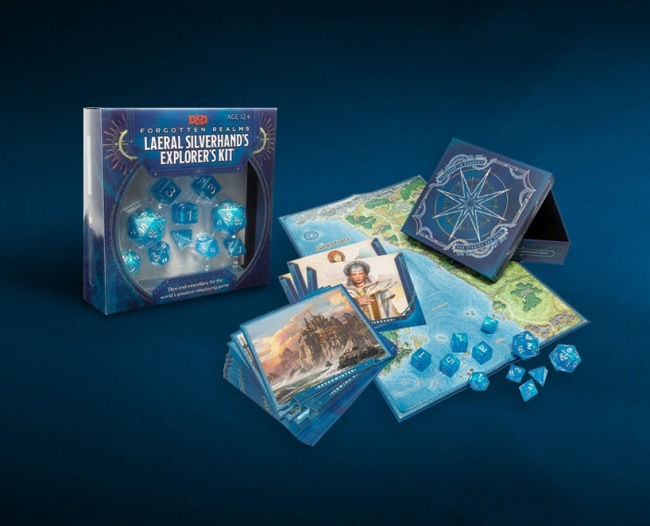 Wizards of the Coast unveiled
Laeral Silverhand's Explorer's Kit
, a set of accessories for
Dungeons & Dragons: Forgotten Realms
, for release into trade on March 17, 2020.
Laeral Silverhand's Explorer's Kit
accessory set comes with several resources that enhance the
D&D
experience in the Forgotten Realms. The set showcases a premium, themed dice set which includes two d20's. It also comes with a foldout, double-sided map of the Sword Coast and the legendary city of Waterdeep as well as reference cards that describe the important people, locations, and lore of the plane. Everything included in this set fits in the included felt-lined box that also doubles as two dice trays.
The product box contains 11 dice (2 d20s, a d12, 2 d10s, a d8, 4 d6s, a d4), 20 illustrated, double-sided cards, a durable, felt-lined box, and a foldout double-sided map of the Sword Coast and the city of Waterdeep. It is only available in the English language.
Wizards of the Coast also has
Ikoria: Lair of Behemoths
coming out in April (see "
Details Revealed For 'Magic: The Gathering' 'Ikoria: Lair of the Behemoths' Product Line
").