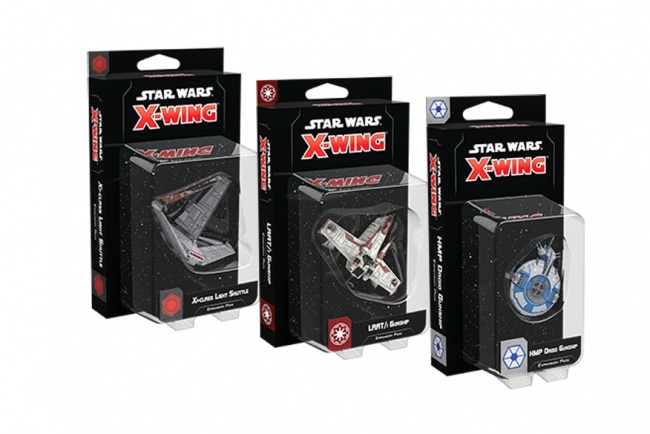 Fantasy Flight Games unveiled three expansions for
Star Wars: X-Wing 2E
,
Xi-class Light Shuttle
,
LAAT/i Gunship
, and
HMP Droid Gunship
, for release in Q2.
The new expansions will feature one First Order ship and two Clone Wars era spacecraft. For the First Order faction, Fantasy Flight is putting out the Xi-class Light Shuttle Expansion Pack which transports VIPs quickly across the galaxy. It carries Agent Terex, a member of the First Order Security Bureau, from planet to planet to execute their nefarious schemes. This expansion includes a painted Xi-class Light Shuttle miniature, a medium plastic base, 2 medium ship tokens, 4 ship cards, 14 upgrade cards, and retails for $29.95.
The two Clone Wars ships featured in the new expansions are the LAAT/i Gunship, and HMP Droid Gunship which are staple space combat craft for that particular Star Wars era. The LAAT/i Gunship Expansion Pack is Republic ship that can make troop drops as well as engage enemy fighters. The pack comes with a painted LAAT/i Gunship miniature, 4 ship cards, 14 upgrade cards, 2 quick build cards, and will retail for $29.95.
For the Separatist Alliance forces, the HMP Droid Gunship Expansion Pack features the more heavily-armed counterpart to the LAAT/i. It carries missile pods, bombs, and an array of laser cannons to help the droid pilots take down a variety of Republic craft. This expansion pack comes with a HMP Droid Gunship miniature, 6 ship cards, 8 upgrade cards, 2 quick build cards, and will have a MSRP of $19.95.
Fantasy Flight released Hotshots and Aces, Fully Loaded, and Never Tell Me the Odds expansion packs in Q4 (see "'Star Wars: X-Wing' Expansions for Q4").
Click on Gallery below for full-size images!