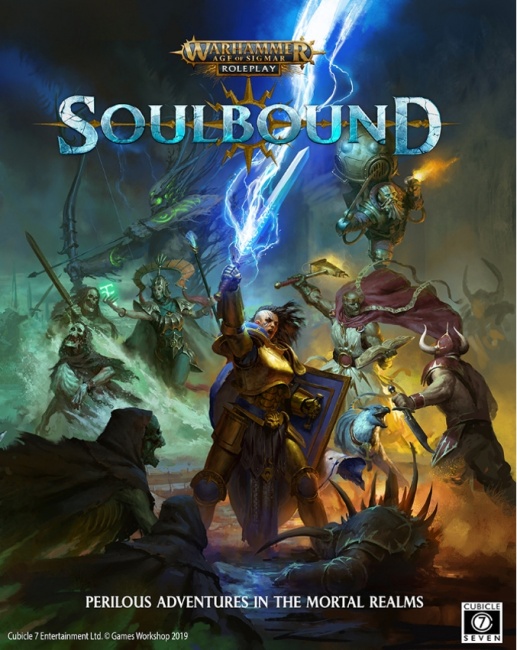 Cubicle 7 has revealed the products in its launch of
Age of Sigmar: Soulbound
, the first tabletop roleplaying game set in the world of
Warhammer Age of Sigmar
, announced early last year (see "
'Age of Sigmar RPG' Cover Revealed
").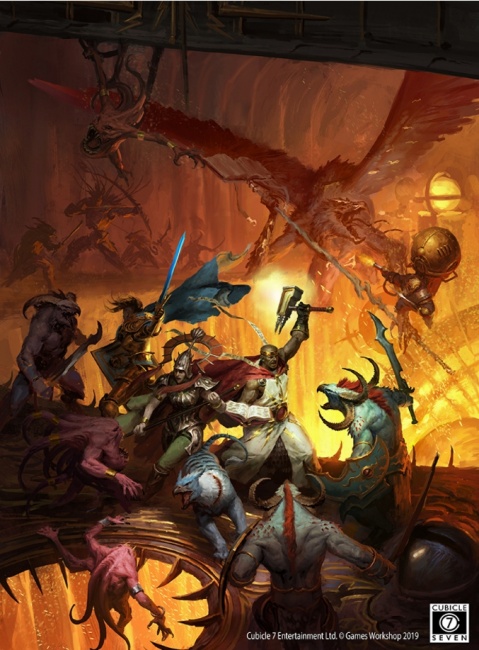 The
Warhammer Age of Sigmar: Soulbound Starter Set
contains everything players need to begin their adventures in the Mortal Realms. The introductory adventure takes players beneath Brightspear and teaches the game rules as they uncover the secrets of the citadel below. The starter set includes an introduction to roleplaying in the
Age of Sigmar
, a 48-page learn-to-play introductory adventure, a 64-page Brightspear City Guide, five pre-generated characters, rules reference sheets, Soulfire and Doom tokens, and a set of six-sided dice.

Cubicle 7 will also release the
Warhammer Age of Sigmar: Soulbound Gamemaster's Screen.
The four-panel landscape screen features artwork by Johan Grenier and at-a-glance references for the most use rules information. The screen with also include the 32-page
Cities of Flames
booklet set in Anvilgard, Brightspear, Hallowheart, Hammerhal, and Tempest's Eye. Each city will include a short introduction and five one-page adventures, for a total of 25 additional adventures.
The core rule book PDF is expected Q1 2020, with the PDF of the
Starter Set
and
Gamemaster's Screen
expected in Q2 2020. Trade release and retail prices have not been announced at this time.
Click Gallery below for full size images!