In Business 3x3, a business retailer or executive will share their experience with three things they've done right, three things they've done wrong, and what else they've learned along the way.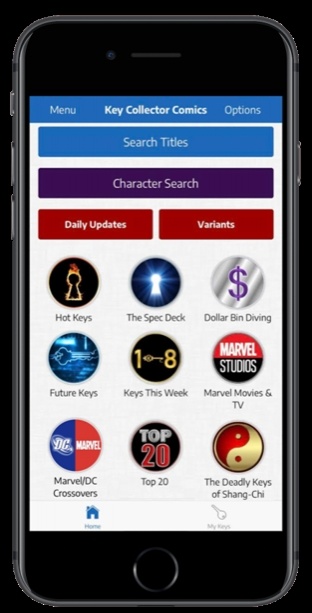 One of the drivers of both the
new and back-issue comic markets
is the Key Collector app. Nick Coglianese launched the app in late 2017, and the push notifications fans and collectors are getting on their phones since have motivated both purchases and some controversy. Some see Key Collector as a great informational resource, while others see it as a tool for speculators.
Coglianese has been a comic collector since age 9. But his way into the comic book world was a crooked path.
"I was managing the states of Illinois and Wisconsin for a liquor company in sales," he says. "And often driving from Madison to Milwaukee or someplace, I would stop at antique stores and whatnot."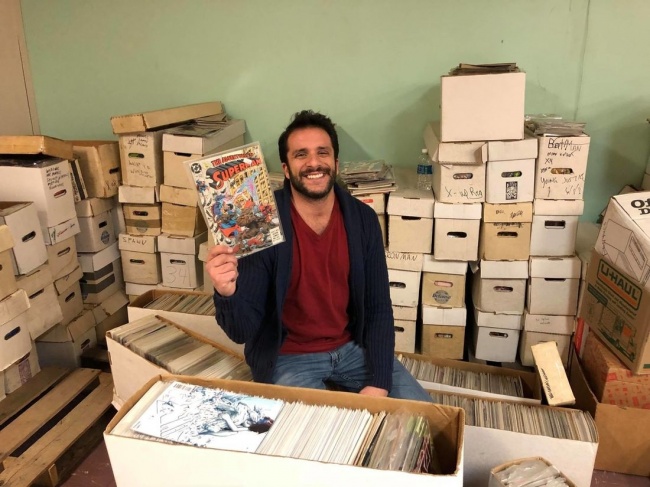 One such stop turned up a treasure trove: A used bookstore owner had a warehouse with 50,000 comics, but little idea what to do with them.
"I built some trust and said, 'Hey, let me into this Shangri-La of comics. I'll root around, pull out what's decent and important, and maybe you give me a deal on something, or give me some credit for some other stuff I want to buy from you,'" Coglianese says today. But therein lay a problem.
"Going through this 50,000-book collection…I thought I knew a lot," Coglianese laughs. "I had been collecting for a quarter century. But a summer later, I was still down at the warehouse thinking 'Why isn't there a resource that's essentially the history of comics told through these key issues?' That's what I wanted to create."
That's what Coglianese did, and along the way, he's learned a lot, very fast.
THE GOOD
Take the Plunge!
Maybe it's the hard-driving sales background, but Coglianese decided to move fast when inspiration hit.
"The idea hit me quick, so the idea is quick, condensed information of what's valuable or important to the history of comic books," he says. "It kind of came down to 'What the hell. I know I want this. It should exist.' So I dove in and didn't look back. That's been the best thing. I really have enjoyed this."
Coglianese has tried to craft Key Collector, "Like a historian's tome. You can look up a character or view different histories like bullet points on a timeline through key issues. The idea was intriguing to me. I had this career, but I never owned my own business. I wanted to do it, but my question was 'Should I do it?' An app is not cheap. It's not like you just buy a program and all the pieces are in place. I had to find a developer, and I had never done anything in the technology field."
Some convention-and-hotel bumps and bruises aside (read on!), Coglianese is happy with his decision.
"Reading comics as a kid…you want to write, you want to draw," he says. "You want to be in the comic book space somehow. But as you get older, you wind up where you wind up, and you can enjoy comics in some other way. I enjoyed collecting, and winding up here has given me a new way to enjoy this. It's totally worth it."
Use the Skills You Have
Yeah, that hard-driving sales background. It helps!
"Over 15 years in sales, you learn cold-calling," Coglianese says. "And that helped the app get into a certain space that it would not have if I didn't have those skills. Right when I launched, I reached out to Alex Ross, Neal Adams, Artgerm, Valiant Comics, Dark Horse, DC, Marvel Comics. I was calling these people up. I did giveaways with Alex Ross, pitched the New York Times. That got me exposure for free that I would not have got if I didn't aggressively pitch and pursue these relationships."
Coglianese knows making the connection is tough to do, but suggests that people should not give up.
"In the comic book space, a lot of these resources…there's no face behind it," he says. "There's a lot of websites, but finding a real person is difficult. When you do, it's very helpful. But it takes a lot of cold-calling."
Avoid Conflicts of Interest
Conspiracy theories aside, Coglianese is happy with the way he's structured Key Collector, and his monetization.
"I don't sell comic books; I don't have any reason to provide information about comic books that benefits me," he says. "So everything on the app, everything I put out, it's…pure. It's things that I've reached a conclusion on, or that people have told me that I'm passing along."
The Key Collector app is free, but a $1.99/month subscription delivers 12 additional categories such as "What's Hot," "Check your Collection," "Dollar Bin Diving," and "Future Keys," which lists significant issues of interest coming out over the next 12 weeks, categorized by the Wednesday that they go on sale.
"The subscription is the cost of half a comic a month, and I benefit from the eBay affiliate program [3.5% of eBay's fees], but I don't know what people are buying on eBay," Coglianese says. "It could be anything. But I don't benefit from, 'Hey, if I talk about this, I'm going to be able to sell my inventory of 1000 books that I managed to cobble together."
And Coglianese is happy with where he's landed.
"Coming up with a monetization plan that is ethical is one of the best things I've done to keep this resource something that people truly can trust," he says.
THE BAD
Don't Forget To Strategize
Developing the app is certainly something Coglianese wishes he could get a do-over on. When it comes to strategy?
"[Laughs] I had no strategy!" he says. "I had the idea. 'Here's the thing, Key Collector.' I sat down and put down ideas, and I thought that I had a somewhat well-thought-out blueprint of what it would become. But building a database and all was just the first step in a very long process. There were times I had to pivot away from decisions I was moving forward with in order to respond to customers."
Bottom line? Coglianese found there's different strokes for different folks.
"I collected my way," he says. "But there are all sorts of different collectors, interested in a lot of different things. I built the resource as a collector who's interested in what I'm interested in. But responding to a lot of different needs right when I launched instead of really understanding the market was…costly. I could have saved a lot of money it I would have understood all the aspects of my market first."
Line Up Your Marketing
Understanding a product launch and hotel occupancy would have helped, too. Coglianese launched Key Collector at the 2017 New York Comic Con.
"I got in the last minute," he says. "They were sold out of booths, but someone dropped out. And I had…nothing. No booth. I had a card table, a couple monitors with a demo of the app on it, and some flyers."
He also had a touch-and-go moment with the launch itself.
"The day the app was supposed to go live was the first day of the New York Comic Con," he says. "But these things don't always go smoothly. I was shitting my pants. Was I going to be talking about this app, and it wouldn't even be available?"
The app did launch on time, but early traction was almost non-existent.
"I thought, okay, there's gonna be 200,000 people there and this is something they're all going to love," Coglianese says. "It's gonna be easy! By the time the day is over, everyone will have downloaded this!"
The opposite was the case.
"I looked at the downloads and it was like 10," Coglianese remembers. "What did I do? I jeopardized my career, I spent all this money on an app, and what am I going to do?"
"I was doing Hotel Tonight for the con, an app where you can get a hotel just for the night, but on Saturday, all the hotels were booked," Coglianese remembers. "I stayed in a diner from 4 in the morning 'til the convention opened on Sunday with all my bags because I didn't have a place to stay. I didn't have a chance to plan that convention at all."
Don't Let Social Media Drag You Down
A lesson we all could use: It's a good idea to unplug.
"Early on, I let criticism in the social media space really drag me down," Coglianese says. "I was active on social media, and in the course of conversations, you get a lot of trolling, and it would really get to me. I spent a lot of time seeking out what people were saying, and spent a lot of time trying to bat down bad information, false stuff."
Simply put, Coglianese wasn't prepared for social media scrutiny.
"I came into this as a liquor salesman, so I had very little use for or knowledge in social media," he says. "But suddenly there's a focus on me, a spotlight, and people can say whatever they want. It affected me. It put me in a bad mood. But in time, I built up a callous against it."
Today, Coglianese is okay. He only worries about the one that got away.
"People would say, 'Oh, this guy's got a bunch of comics that he's trying to sell that he's talking about; he's selling this all.' I don't do that. I sold one comic in my life: Walking Dead #1, 10 years ago. And I still regret it! I wish I still had it in my collection!"
AND WHAT ELSE?
"This is my triple-full-time job. I put more time into this than anything."
"I asked my sister, 'Should I take on investors?' And I talked to people in comics, successful store owners I was looking to partner up with who said this wasn't going to work. My sister said, 'Why are you looking for partners? Just do it yourself. You'll save money.' So I did."
"The idea just comes from being a collector for so long. It's 'What are people talking about?' I'm fairly engaged with social media, and I have a good idea of what my customers are talking about. If it's something like Moon Knight that's going to be a TV series, I know people are talking about it. If it's something like the Spawn thing, that's just a curiosity of mine. That's like…wow. From going from over 1 million copies on #1 to hitting the skids at 11,000…that's insane. And that creates different paths of curiosity."
"The app gets sequestered into this speculation corner, and maybe speculation is an aspect of what it is. But what it really is is a concise database of key issues. If someone wants to get into comics, know what they're doing…you're an expert in the time it takes to download an app."