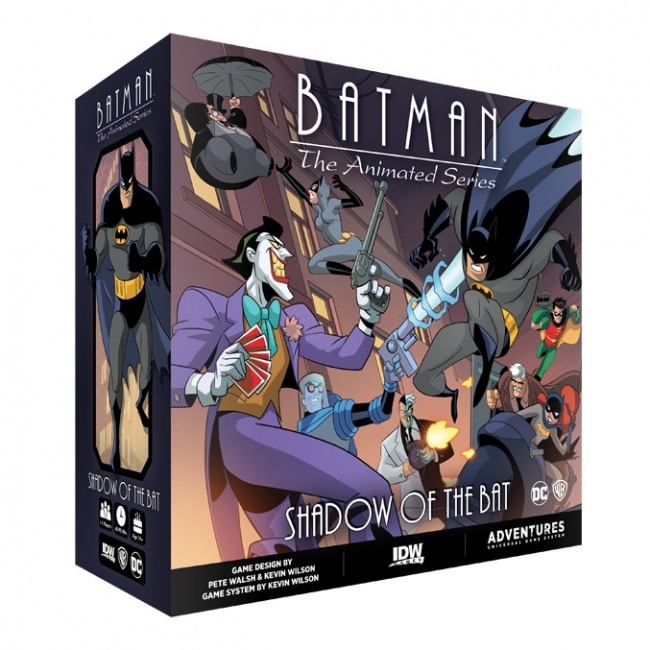 IDW Games, in partnership with Warner Bros. Consumer Products and DC, announced
Batman: The Animated Series Adventures: Shadow of the Bat,
a miniatures board game, for release into trade in Fall of 2020 pending a successful Kickstarter which begins on February 18.
Shadow of the Bat runs on the Adventures Universal Game System (AUGS), and is compatible with other AUGS products. Players take the role of Batman, Batgirl, Robin, Commissioner Gordon, or Catwoman, and make their way through this game's 24 unique missions which are inspired by fan-favorite episodes. They will try to take down villains like Two-Face, The Penguin, Mr. Freeze, The Riddler, Scarecrow, Man-Bat, The Joker, and Harley Quinn which can be changed up for every mission to increase replayability.
Alongside
Shadow of the Bat
, the Kickstarter will also offer
Arkham Asylum
, a full-sized expansion which adds 13 more missions to play through, and a new Clayface game mode which randomizes a hidden Clayface threat amongst the heroes on the board. Players will battle their way through the hall of the infamous institution against Clayface, Poison Ivy, Jervis Tetch, The Ventriloquist, Killer Croc, Maxie Zeus, Lock-Up, Clock King, Baby Doll, and Hugo Strange.
IDW Games also announced Silver Lotus Order Expansion, for Towers of Arkhanos, in January (see "IDW Publishing Will Release 'Towers of Arkhanos' Expansion").
Click on Gallery below for full-size images!