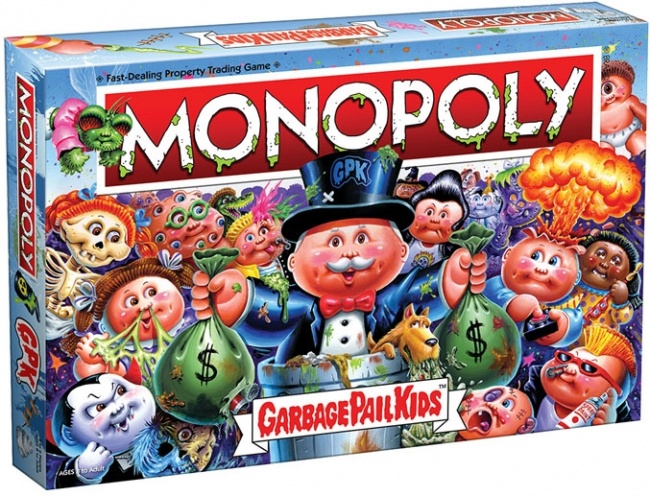 USAopoly (The Op) will release
Monopoly: Garbage Pail Kids
, a nostalgic version of the base
Monopoly
game, in Spring of 2020. USAopoly (The Op) acquired the board game license to Topps' Garbage Pail Kids in 2019 (see "
Topps Plans Big Push for 35th Anniversary of 'Garbage Pail Kids'
").
Monopoly fans can relive all the satiric grossness of the 80's trading cards in this new version of the classic board game. It features the licensed characters fans adore, and also includes collectible tokens such as a Zit Goo Tube, Melting Eyeball, and Swirly Dog Poop. Players can move around the Monopoly board and collect their favorite Garbage Pail Kids as they play.
The game box includes a game board, 6 collectible tokens: Zit Goo Tube, Fish Bones, Melting Eyeball, Overflowing Trash Can, Guillotine, and Swirly Dog Poop, 28 Title Deed cards, 16 Never Had a Chance cards, 16 Community Chester cards, custom Monopoly Money, 32 House tokens renamed "Garbage Cans", 12 Hotel tokens renamed "Dumpsters", 2 six-sided dice, and rules. Monopoly: Garbage Pail Kids is for 2 or more players, ages 8 and up, plays in 60 minutes, and will retail for $39.99.
USAopoly (The OP) also announced two new versions of Monopoly, Lilo & Stitch and Beetlejuice, for broad release in February 2020 (see "Two New Versions of 'Monopoly' by USAopoly (The OP) ").