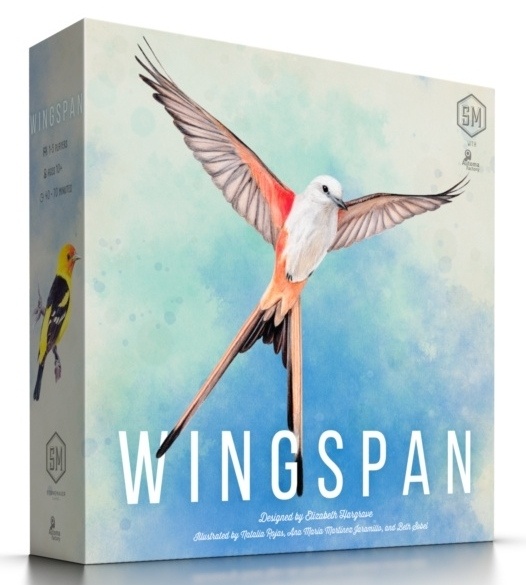 A clerical error in an order to the Chinese manufacturer of Stonemaier's hit game
Wingspan
led to most distributors in the U.S. and Canada receiving no copies from a recent 21,520-copy print run, company founder Jamey Stegmaier wrote in a blog post explaining why the company's web store was still selling copies while retailers are unable to get copies from their distributors.
According to the post, Stonemaier initiated a 21,520-unit print run of
Wingspan;
unfortunately, the correct order number was 26,520, 5,000 more copies. Copies for prepaid distributor orders and non-North American distributors were allocated as if the correct number had been ordered, leaving only a few thousand copies for all remaining distributors in the U.S. and Canada. "This presented quite a dilemma, as a few thousand copies of
Wingspan
can barely cover one distributor's orders, while there are nearly ten major hobby game distributors in North America to whom we sell," Stegmaier wrote. "Our choice was to divide the few copies we have among those distributors, knowing that each will be frustrated for being heavily allocated (and that local game stores in particular would end up receiving 1 or 2 copies at most, which would be frustrating for them), or do we wait until we have a more robust supply of
Wingspan
? I decided to wait."
Stonemaier then put the available copies on sale in its web store, and is also shipping single-case orders to individual retailers that order directly from the publisher.
When will more copies arrive in North America? Stonemaier has a "mid-sized" print run in production, "so its primary focus will be to serve demand for distributors in North America," Stegmaier wrote. An additional print run will arrive in July.
Stegmaier wrote that 300,000 copies of
Wingspan
were now in print worldwide through Stonemaier and its localization partners.
Stonemaier Games recently revealed that
Wingspan: Oceania
expansion is projected to release in late 2020 (see "
Stonemaier Games Reveals Next 'Wingspan' Expansion
").