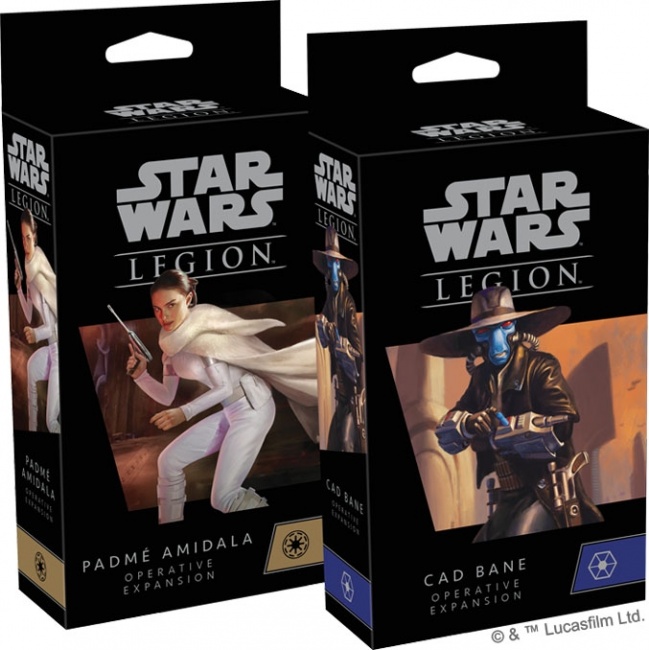 Fantasy Flight Games unveiled two new
Star Wars: Legion
Operative Expansions,
Padme Amidala
and
Cad Bane
, for trade in Q2 of 2020.
Senator Padme Amidala fights for freedom and democracy from the floor of the Galactic Senate as well as on the battlefields of the Clone Wars. This expansion comes with a unpainted Padme Amidala miniature, a unit card, 6 upgrade cards, and Padmé Amidala's 3 signature upgrade cards to field in battle. This single figure set will retail for $14.95.
Cad Bane is an incredibly skilled professional bounty hunter who works for the Separatist Alliance. He enters battle, usually with his signature wide-brimmed hat, wielding one or more LL-30 blaster pistols. This pack includes a unit card, 6 upgrade cards, and Cad Bane's 3 signature command cards. It will retail for $14.95 as well.
Fantasy Flight Games also announced two new Star Wars: Legion Commander Expansions, Cassian Andor and K-2SO and Iden Versio and ID10, to hit stores in Q1 of 2020. (see "Fantasy Flight Games Unveils New 'Star Wars: Legion' Commander Expansions").
Click on Gallery below to see full-size images!