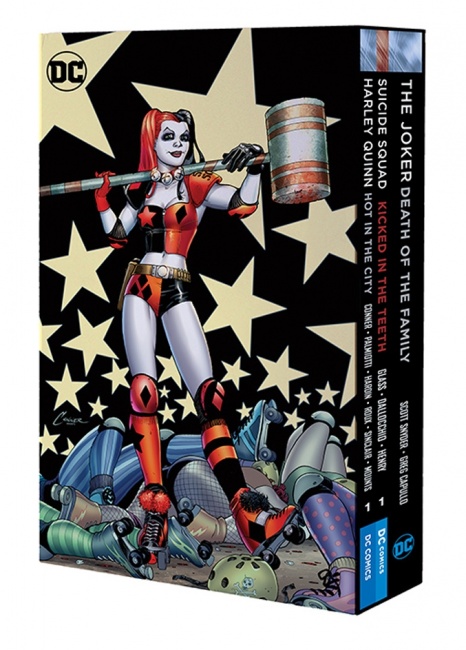 DC Comics will release
Harley Quinn: The New 52 Box Set
, a three volume collection of Harley Quinn stories, on September 16.
Harley Quinn has come a long way from a fan favorite on Batman: The Animated Series to the DC Comics sensation she is today. This new box set collects three volumes that helped propel her on her rise to infamous stardom. Harley Quinn Vol. 1: Hot in the City tells the tale of how Harley moved to Coney Island and became a roller derby queen, and Suicide Squad Vol. 1: Kicked in the Teeth recounts her stint going on deadly mission for the government alongside Deadshot and King Shark. The third volume is a true classic that reveals Harley's true capability for madness in The Joker: Death of the Family.
Harley Quinn: The New 52 Box Set is written by Amanda Conner, Jimmy Palmiotti, Adam Glass, Scott Snyder, Peter J. Tomasi, and others. It also features are by Chad Hardin, Federico Dallocchio, Greg Capullo, Jason Fabok, and others. This collection will retail for $59.99.
DC Comics will also release two dark, twisted variant covers for Joker/Harley: Criminal Sanity #4 on April 8, 2020 (see "'Joker/Harley: Criminal Sanity #4' Features Dark, Twisted Variant Covers").