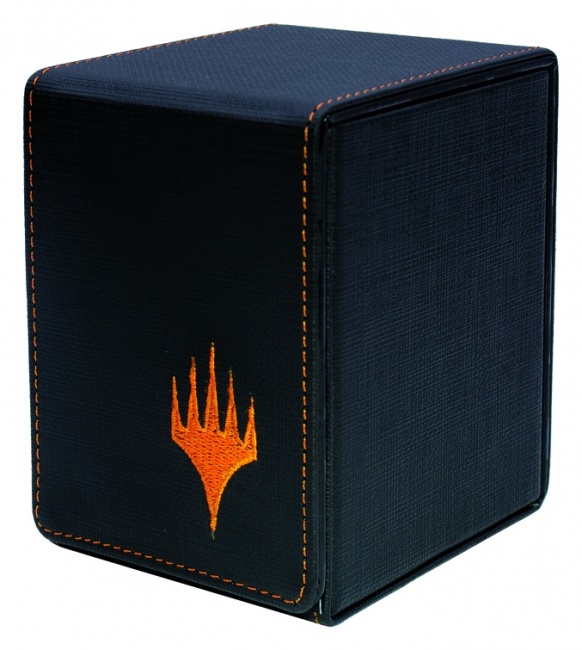 Ultra PRO announced
Magic: The Gathering Mythic Edition Accessories
, deck boxes and binders for
Magic: The Gathering
cards, for release in May 2020.
Mythic Edition Alcove Flip for Magic: The Gathering and Mythic Edition Alcove Tower for Magic: The Gathering. These two products are a solid storage device for organizing and protecting Magic cards. They both hold 100+ double-sleeved cards, and have a magnetic locking mechanism. The Alcove Flip Box, which will retail for $24.99, is a little smaller, and its lid can be undone on both sides of the box for easy access to the deck. The Alcove Tower, which has a MSRP of $34.99, features a modular interior for storing dice, tokens, and other accessories.
Mythic Edition Alcove Vault for Magic: The Gathering. The Alcove Vault stores and protects up to three separate decks of cards in Deck Protector sleeves. Each compartment of this storage box can store up to 100 double-sleeved Magic cards and it will retail for $54.99.
Mythic Edition 4-Pocket, 9-Pocket, and 12-Pocket Zippered PRO-Binder for Magic: The Gathering. Each portfolio comes with archival safe pages. The 4-Pocket version can hold up to 160 sleeved cards, the 9-Pocket version holds up to 360 sleeved cards, and the 9-Pocket version holds up to 480 sleeved cards. The pages are designed to fit standard-sized TCG cards, and will retail $29.99, $39.99, and $49.99, respectively.
Ultra PRO has also announced Epic Spell Wars accessories for March (see "Ultra PRO Will Release 'Epic Spell Wars' TCG Accessories").
Click on Gallery below for full-size images!