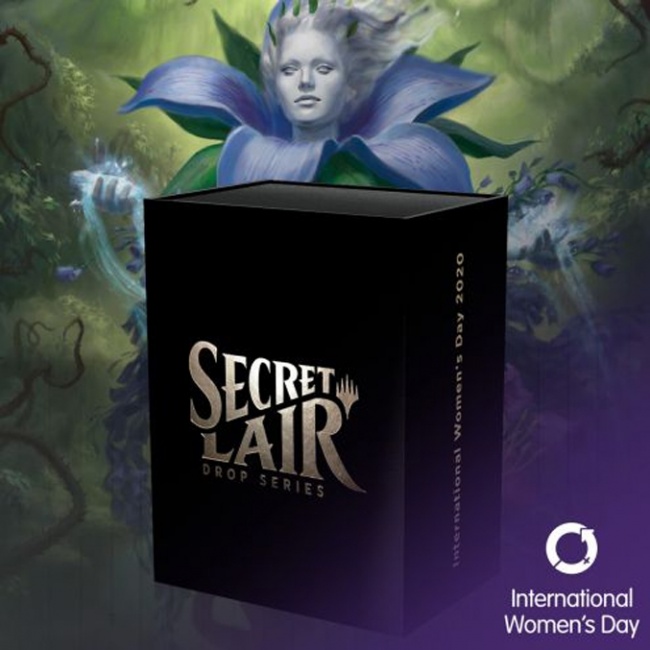 Wizards of the Coast revealed
Secret Lair: International Women's Day
, with $25 of each sale going to Girl Guides and Girl Scouts, for release on March 8.
The latest Secret Lair drop is an International Women's Day set that benefits charity, similar to how WotC released the My Little Pony set last year (see "'My Little Pony' 'Magic: The Gathering' Card Set Will Be Sold To Raise Money For Extra Life Charity"). The set includes five legendary creature cards featuring women from Magic: The Gathering: a Foil Borderless Alt-Art Captain Sisay, a Foil Borderless Alt-Art Meren of Clan Nel Toth, a Foil Borderless Alt-Art Narset, Enlightened Master, a Foil Borderless Alt-Art Oona, Queen of the Fae, and a Foil Borderless Alt-Art Saskia the Unyielding. In addition, the borderless art for the cards are all provided by illustrators including Mila Pesic, Livia Prima, Cynthia Sheppard, Anna Steinbauer, and Magali Villeneuve.
These particular cards are often used as commanders because they have very powerful abilities, and will likely be valuable on the secondary market as Commander players tend to upgrade the aesthetic qualities of the cards in their decks. Secret Lair: International Women's Day is priced at $49.99, and will only be available for 24 hours.
WotC's last drop, Secret Lair Drop Series: Theros Stargazing, was released on February 14 (see "Wizards of the Coast Drops Five More 'Magic: The Gathering' 'Secret Lair' Sets Featuring 'Theros' Gods")
Click on Gallery below for full-size images!