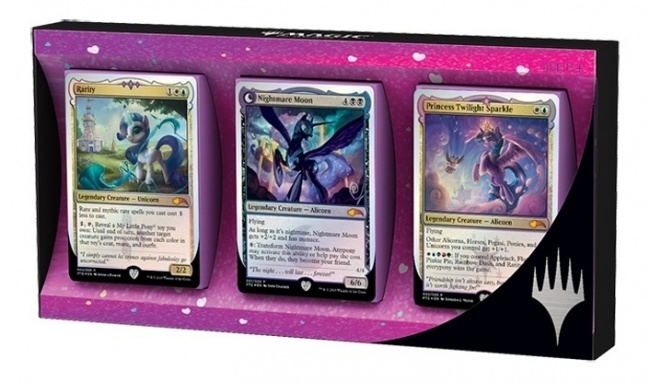 Wizards of the Coast has revealed the
Ponies: Galloping
, a card set for
Magic: The Gathering
, that will be sold to support Extra Life, an organization benefitting Seattle Children's Hospitals.
This three-card crossover set will be sold between October 22 and November 5 through the Hasbro Pulse web site at a cost of $50.00, with $30.00 of each sale going to Extra Life. There also a $100 donation level, with $80 going to charity, for three Ultra PRO play mats that features the art from the cards.
Even at a raw cost of $50 per three-card set, purchase of this set is a worthwhile endeavor for retailers to explore on a couple of different levels. First and foremost, it benefits a worthy charity. Seattle Children's Hospitals provides life-saving care for hundreds of children, and also engages in research into childhood disease.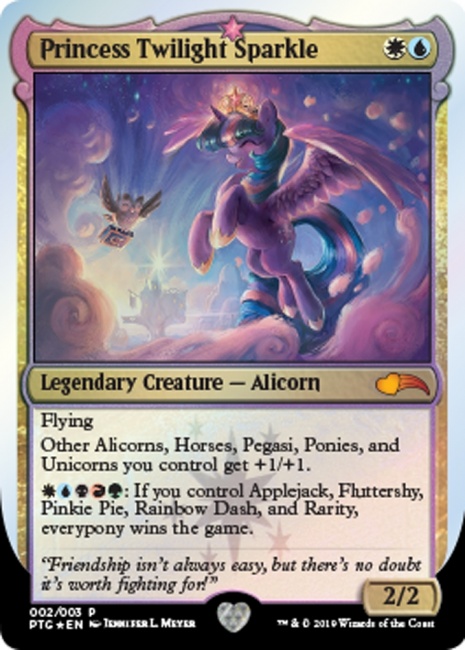 In addition to supporting a charitable cause, the cards included in the set will more than likely become instant Commander staples, retain value on the secondary market, and inspire single sales of long-forgotten rares that synergize with the Ponies. The Princess Twilight Sparkle card is a fantastic choice as a Commander for a Horse-themed deck, and will likely create a single sales uptick in cards that summon pegasi, horses, alicorns, and unicorns. Rarity and Nightmare Moon/Princess Luna are simply an overall good multiplayer cards with great flavor mechanics. Make no mistake, these Ponies will be in demand.
Wizards of the Coast also recently released another limited edition set, Magic: The Gathering Deluxe Collection, that sold out almost instantly (see "Wizards of the Coast Will Sell 'Magic: The Gathering Throne of Eldraine Deluxe Collection' Direct-to-Consumer").
Click on Gallery below to see full-size images!