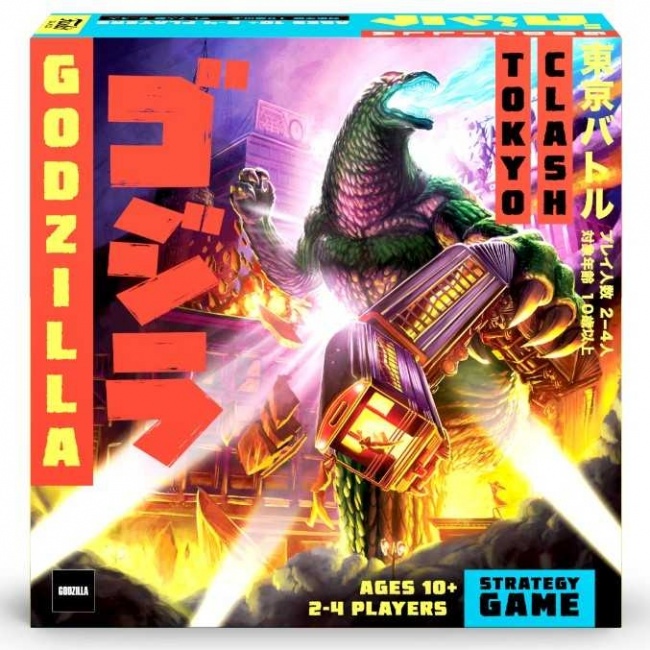 Funko, Inc. announced
Godzilla: Tokyo Clash Strategy Game
for release in June.
Godzilla: Tokyo Clash Strategy Game lets players stomp and smash the vintage Tokyo cityscape as Godzilla, Mothra, King Ghidorah, and Megalon in a battle for dominance. Players will battle and destroy a different city every game through the use of modular board tiles and sculpted buildings. Each Kaiju is represented by large-scale figures and decks featuring attacks and powers unique to that monster. Humans fighting to save their city are represented by event cards and increase the damage dealt to the players. The game includes 13 game board tiles, 4 Kaiju miniatures, 4 Kaiju mats, 4 Kaiju decks, 13 building miniatures, 6 event cards, 74 tokens, a damage track mat, 5 tracking cubes, a oxygen destroyer marker, a miniature stand, and instructions.
Godzilla: Tokyo Clash Strategy Game is for two to four players, ages 10 and up, and plays in 45 minutes. The game will retail for $39.99 and will release in June at Target stores then have a mass retail release in October.
Godzilla will star in two other games from The OP later this year (see "The OP Partners With Too International for Two 'Godzilla' Brand Games").