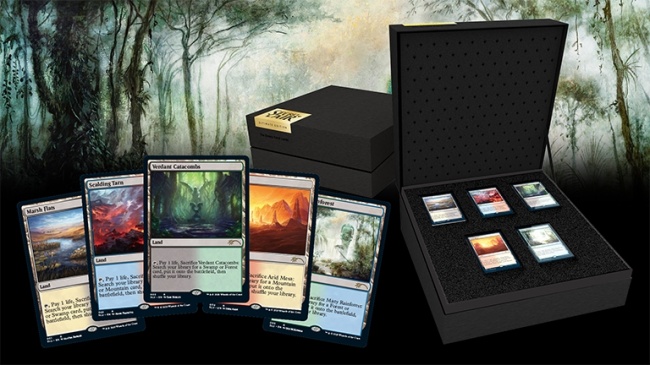 Wizards of the Coast announced
Secret Lair: Ultimate Edition
, for
Magic: The Gathering
, that is set to release into trade on May 29.
This is the first Secret Lair Drop Series set that will be available to WPN stores in limited quantities (around 10 copies of the store per set). Secret Lair: Ultimate Edition will contain one non-foil copy of each of the enemy-colored fetch lands: Arid Mesa, Marsh Flats, Misty Rainforest, Scalding Tarn, and Verdant Catacombs. The fetch lands will feature new artwork inspired by popular planes which was rendered by Alayna Danner, Adam Paquette, Sam Burley, John Avon, and Seb McKinnon. These sets will be available at stores for a limited time only, but the cards from this set will be available later on in 2020 as part of a Secret Lair super drop bundle.
Wizards of the Coast recently did are Secret Lair: International Women's Day drop with $25 of each sale going to Girl Guides and Girl Scouts. (see "International Women's Day 2020 Drop").
Click on Gallery below for full-size images!