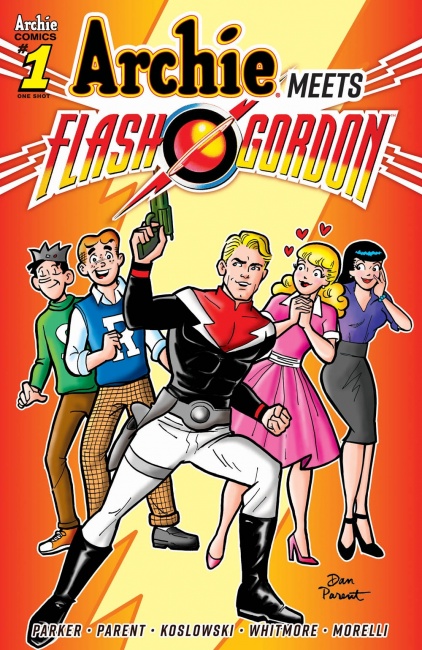 Archie Comics announced
Archie Meets Flash Gordon #1
for release on June 3, 2020.
The galaxy's greatest hero and the galaxy's most notorious gang of teenagers team up to save Earth. Ming the Merciless is at it again, and he is kicking off a full-scale invasion of Earth starting with the town of Riverdale. It's a miracle that Flash Gordon is there to try to stop him, but he needs the help of Archie and his cohorts. This one-shot comic combines all the heroes and villains of Flash Gordon's world and Riverdale to weave a tale of sci-fi comedy adventure.
Archie Meets Flash Gordon #1
is written by Jeff Parker with art by Archie veterans Dan Parent and Rich Koslowski. It also features a variant cover by Sandy Jarrell, will be 48-page full color, and retail for $4.99.
Dan Parent also provided art for
Archie Meets the B-52's
(see "
The B-52s Jam With 'Archie'
").
Click on Gallery below for full-size images!