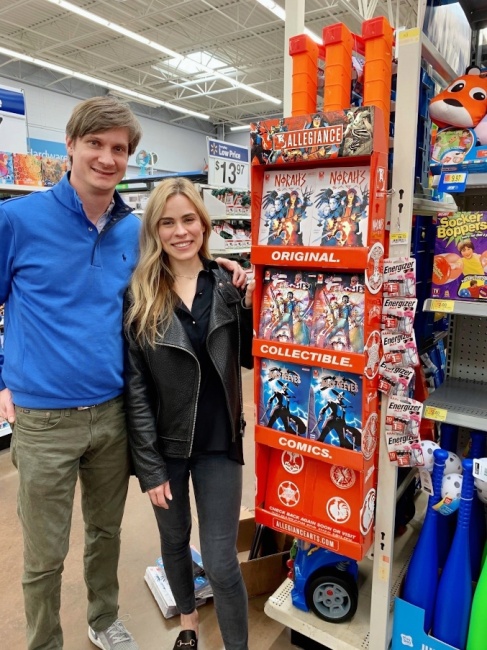 Sidekick comic displays from new comics publisher Allegiance Arts and Entertainment will be placed in the book departments of 3,384 Walmart stores, about 70% of the chain, next Tuesday, May 5. The displays, which will hang on the side of an endcap display, will launch with four original middle-grade titles, priced at $4.98 for 24 all-story pages on 70-pound paper.
The displays are being placed by Readerlink, which handles book distribution to Walmart. Their eight pockets will be used to display multiple issues of the books so readers will be able to find early issues even after the titles have launched. Plans are to launch with ten copies per store of each title. The comics will also be available on Walmart.com.
The four titles are:
The Futurists: written by Patrick Stiles. Pencils by Butch Guice. Inks by Rick Magyar. Colors by Mitch and Elizabeth Breitweiser
Bass Reeves, written by Kevin Grevioux. Pencils and Inks by David Williams. Colors by Kelsey Shannon.
Red Rooster, written by Mark Pellegrini. Pencils and Inks by Mitch Breitweiser. Colors by Elizabeth Breitweiser
All books were edited by Patrick Stiles. Book Design by Chris Kendrick.
All of the four have had Indiegogo campaigns in the past. The campaign for a bundle of Norah's Saga, The Futurists, and Bass Reeves raised $44,709 and has been fulfilled; the August 2018 campaign for Red Rooster: Golden Age, which raised $197,434, has not.
The stories will be written in "seasons" of six "episodes," for eventual repackage into book format.
The company was founded by comic artist Mitch Breitweiser, Eisner-nominated colorist Elizabeth Breitweiser, and Arkansas businessman David Martin, CEO of reputation management/crisis consulting firm Allegiance Consulting Group. We spoke to Allegiance Arts CEO Mitch Breitweiser about the launch.
ICv2: Why do you believe that there is a demand in 3,300 Walmart stores for these comics?
Mitch Breitweiser: The bet is that there's a large, underserved market of fans that would be readers of comic books but they just don't typically have access to them, or at least convenient access to them.
As I asked all kinds of people my age, younger, store owners, how they discovered comic books, 9 times out of 10, the answer would come back to me as, "I discovered in the Kroger, at the grocery store while Mom was shopping, or in the drugstore," which was my case as a youngster.
They typically aren't found there anymore, in very, very rare cases. The hunch is, the bet is that if we make them discoverable, accessible, beautiful, and make the stories extremely great (which obviously, we feel like we've done), then kids will pick them up, cherish them, find a new hobby. We'll ignite the chemicals in their brain that form this nostalgia for a lifetime bonding with creators and content. That's happened thousands, and thousands, and thousands of times before, and we feel that, if you put the right product in the right place in front of the right kids, then essentially, the lightbulb will go off and the chemical reaction will go off.
We feel we'll be very successful in doing so. We certainly are proud to have excellent partners with Walmart and Readerlink, who both believed in this pitch and this vision. We feel very confident with both of their research and data, that we have a strong opportunity to win over all these customers and sell our books in mass market stores.
Is there a particular type of story that you feel is the right fit for this channel?
None of our titles are superhero comics. That's one thing we felt like we didn't want to compete with. We already have two amazing, great superhero houses with plenty of content available. We have the opportunity, I think, to tap a younger audience with these books, kids that are shopping with their parents, mothers, or fathers, or grandmothers in Walmart stores.
What's the target age?
I would call it middle grade, which isn't too much different than a lot of comics. We did want them to be accessible to a younger fan. We feel like we have a really huge opportunity to expose this unique and awesome hobby and medium to a whole new generation of fans that may love comic book superhero movies but may have never actually even seen a comic book. We just wanted to make sure that the books were something that could be read by kids and parents and be appreciated on two different levels. Generally, we target them as middle grade books.
DCs are in the collectible aisle in Walmart stores. What do you think about the fact that there will be comics in two different parts of the store?
I think we're right where we need to be in the book section. I know just from asking different people about their experience with those, some people have been frustrated because they're a little hard to find. They don't seem to be placed in a logical place. I feel like we definitely did our due diligence and tried to find the right people within Walmart itself, the right buyers to approach and to impress with our products. I feel like we did that, and I feel like we're in the right position within the store.
How many titles will you publish?
We have four launch titles, and they'll be spread amongst the eight shelf spacing. That gives us the opportunity to, as episodes two and three hit the stands, spread out the back issues a little bit. The issues won't be pulled immediately for the first couple of months. They'll be on the stands, so that customers that might come in and discover our books around episode two or episode three still have a chance to get episode one.
We certainly have plans to launch more titles. We'd like to get a couple more titles out before the end of the year. From there, we'd like to expand our presence within Walmart itself.
Obviously, we want to prove ourselves on the stands, prove we have staying power and selling power. Also, prove to our distributors that comics in general, but our comics in particular, should be propagated amongst some of their other convenient outlets for customers.
Why periodicals and not graphic novels?
For a couple of reasons. One, people do enjoy episodic content. Another one is that they are collectible. They're printed, at least the first printings, in specific numbers, and they're available for a limited time.
Keeping with the traditional comic book tradition is another important thing. It's important to retailers, because it creates new habits for fans of our series to become customers within various stores, be it Walmart, or any Readerlink, or other potential newsstand partners. I'm sure they would love to have a customer that comes in once a month to check on new Allegiance comics and maybe walk out with a candy bar, a soda, or whatever else they might purchase.
As a company, it's a great business model, in which you put out this limited collectible product, serialized product, and then you can repackage the product at the end in a trade paperback format, for instance, the same way that a Netflix show or an HBO show might play their season and then package the DVDs in a box set for the whole season and sell them elsewhere.
Click Gallery below for covers of the initial releases!